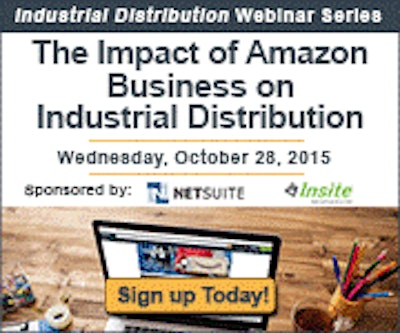 If there's one word that's pretty much defined the flurry of online business activity in the past year, it's "marketplace" — specifically Amazon's latest effort towards wrangling more B2B market share, Amazon Business. 
Join us Wednesday, Oct. 28 for this panel discussion, moderated by Jack Keough, featuring:
Patrick McCarroll of Buffalo Electric Supply, a former AmazonSupply user who is now utilizing the Amazon Business platform.
Scott Benfield of Benfield Consulting, on the bigger picture of what Amazon Business means to the marketplace.
Chuck Bennett of Business Data Links, on how technology is at the core of the competitive distributor – and how Amazon has raised the stakes.
The webinar goes live at 1 p.m. Eastern/10 a.m. Pacific. Register here
Speakers:
Moderator: 
Sponsors: