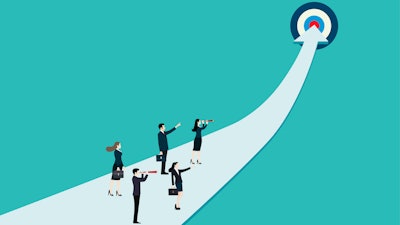 iStock
In the second part of our annual look at how distributors are navigating the industrial sector, companies detail their best practices, their workforce concerns, their financial optimism, and their views of why their customers choose to do business with them.
Read part one here.
The Balance Sheet
Despite the rising concerns about the economy among distributors detailed earlier, poll participants, on the whole, appear optimistic about their companies and the industry over the next year after a robust 2022. More than 72% of respondents to ID's survey said their company's sales increased compared to the previous year. Although that's less than the 83% from last year's poll, it should be noted that those 2022 numbers reflected a comparison with the final year affected by strict lockdowns and other COVID precautions. Perhaps more promising, meanwhile, were the reports on company profits. Three-quarters said profits rose over the previous year, slightly above the levels reported in early 2022. Expectations have moderated for the current year, but they remain strong nonetheless. Two-thirds project sales to increase, while just less than one-quarter said sales should remain about the same as last year; 10% expect a drop in sales — something no participants suggested would happen last year.
Many distributors posted strong sales totals in their full-year earnings reports as higher prices helped spike their overall numbers, but, interestingly, respondents to ID's latest poll also said their margins are generally withstanding the current environment. More than half said inflation had impacted profits, but that their companies counteracted the effects by raising prices. Another 39% said inflation "moderately" shrunk their margins, while 15% said it had "little to no impact" on profits at all. Just 6% said margins had declined "significantly" due to inflation.
Distributors have also shifted their attitudes on how best to spur business growth following a year of strong sales performances but an unsettled economic climate. Advertising and marketing easily topped their list after not appearing at all among the top options last year — 64% identified it as an important factor, more than 20 percentage points ahead of any other answer. Other leading tactics this year included driving more traffic to company websites at 40% and adding more employees, technical staff and product lines, which each hovered at around one-third of survey participants. One potential tactic that clearly lagged behind all others was expansion — excluding, of course, the realm of mergers. Just 21% singled out the possibility of adding more branches, and less than 5% of respondents considered conducting more business overseas.
Best Practices
Anecdotally, distributors have been voicing the challenges they face in dealing with extended payment terms, but this year's data suggests that they may have had some luck in pushing back. Only 3% of our survey respondents said that 60-90 day terms best characterized their timeframe for receivables. Instead, most of our them (62%) operate in terms between 31 and 50 days.
In further support of this shift, we see distributors rank "terms" dead last on their list of "most important criteria used when evaluating suppliers." Of ranking importance are:
Quality (86%)
On-Time Delivery (71%)
Service/Support (56%)
Price (47%)
While distributors' relationships with their suppliers can be tumultuous, there appears to be some stability reflected in this year's results. In 2021, 38% of respondents told us they believed their relationships with key suppliers had gotten worse over the year prior; last year, 22% said the same. This year, that figure dipped further, with only 14% of our respondents believing these relationships were getting worse. This suggests that the stress of the pandemic may be dissipating or that distributors and suppliers have adapted to a "new normal" type of working relationship. A full quarter of respondents indicated that relationships with these suppliers were actually getting better while the majority – 62% – say the relationships have stayed the same.
These relationships are thriving despite pressures – such as costs – being passed on to distributors. Ninety-seven percent of respondents say their suppliers have increased prices over the past year, something that comes as no surprise with heavy inflationary pressures in play. This figure has bumped up steadily in the past several years in relation, it seems, to these macroeconomic factors:
In 2022, 93% cited supplier price increases.
In 2021, 86% cited supplier price increases.
Further, distributors aren't seeing much in terms of supplier efforts to ease the impacts of the price increases and, based on previous questions, seem largely satisfied despite this. This more than likely indicates an understanding of market conditions; as we see in the previous section, only 6% of distributor respondents cite significant impact of inflation on margins and 51% have raised their own prices to counteract it. Of those who are the recipient of some kind of supplier program to offset price hikes, the top three were characterized as co-op advertising, new product introductions and extended terms.
Other notable points:
Industrial vending is a business strategy utilized by 26% percent of our respondents.
Of those who don't currently offer vending machines to their customers, nearly 17% say they have plans to do so in the future.
When it comes to their interest in international business, the respondents are fairly evenly split: 49% of respondents say they are currently conducting business internationally, whereas 42% say they are not and have no plans to do so.
Value of Distributor
It's more important than ever for distributors to prove their value proposition, and the service model has long existed in order to support the partnerships between these businesses and their customers. And as the years go by, the word "value-added" appears less and less, and distributors find they can – and should – charge a fee for certain services.
For distributors who responded to our survey, the following services are most likely to have fees associated with them:
Shipping (80%)
Fabricating or kitting (31%)
Set-up/Installation (31%)
Design/Engineering Support (26%)
Even though distributors are gaining the confidence to charge for services, many still derive a limited amount of revenue from these charges: 55% say 1-10% of their revenue comes from services and 16% say it's 11-20%. On the extreme ends of the spectrum:
11% say they don't make any money on services.
5% say services account for more than half of their revenue.
While we learned in the prior section that only a quarter of respondents offer vending machines to customers, many more are involved in vendor-managed inventory. In fact, about half say they engage in vendor-managed inventory in some fashion, whether onsite or via automated reordering.
In an effort to improve market access, gain price breaks on supplies, and secure technology and marketing benefits, many of our respondents are turning to co-ops and buying groups. In this year's survey pool, more than half are involved in one or the other — or both. Specifically:
41% are members of a buying group.
9% are members of a cooperative.
3% are members of both.
Employment
For an industry that's long struggled with worker recruitment and retention, talent development concerns are not new. That said, they may be more impactful than ever as distributors struggle to access talent when many adjacent markets are also underserved.
Do distributors feel competitive when it comes to talent acquisition? Unfortunately, 46% say they are not typically able to find available and qualified job applicants, with 36% characterizing their company's ability to recruit and retain top talent as "fair" or "poor."
But glimmers of hope have begun to emerge. Last year, more than half described their recruitment/retention abilities as only "fair" or "poor," perhaps indicating an emerging area of focus for distributors. And while 38% of survey respondents say turnover has been higher this year than in years past, 58% say that's not the case for their business. In 2022, meanwhile, 52% said turnover was higher than it had been in 2021.
Companies appear to be turning to new and better methods to retain workers and point to higher pay for performance as a way 76% are keeping workers happy; 59% are offering improved benefits, and nearly half point to a flexible work environment or hours. These benefits target multiple categories where distributors struggle to recruit. Companies in our survey pool cited the following roles as the most challenging to fill and also retain:
Sales (59%)
Customer Service (34%)
Warehouse (34%)
Operations (30%)
Logistics (13%)
These challenges are often compounded by the high standards many distributors have when it comes to the technical expertise of their workforce. As a key component of the go-to-market strategy of many industrial companies, it's no surprise that 55% say hiring technically trained employees is "very important" and 39% say it's at least "somewhat important."
Despite these requirements and their related hurdles, distributors continue to place an emphasis on hiring. Amid reports about layoffs in other industries, only 3% of our respondents said they have had to reduce staff in the past year, and fewer than 5% say they believe they will need to reduce staff in the approaching year. Conversely, 59% have added staff in the past year, and 33% anticipate they will need to add more in the coming year. The biggest bumps are in the warehouse and sales departments, customer support and operations. Nearly one in four say hiring is impacting all departments.