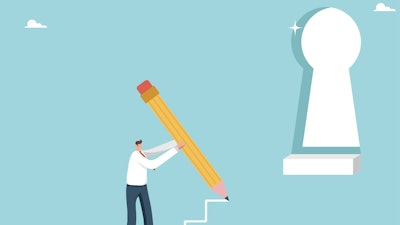 The post-pandemic operating environment has been riddled with challenges, and the impacts of shifting variables have had a unique influence on the confidence of the average industrial business. This year's Survey of Distributor Operations asked our audience more than 50 questions, but you can learn a lot about 2023 with their response to just one: when asked to identify their "current primary concern," the survey respondents, far and away, selected "economic conditions this year."
But perhaps this actually raises more questions than answers, and in the coming pages, we plan to explore both the challenges facing distributors and the ways in which they are responding.
As always, Industrial Distribution's Survey of Distributor Operations aims to provide a snapshot of the industry and how distributors are faring across an array of operating areas. In the first part of the 2023 report, a profile of this year's survey respondents, a look at how they're responding to e-commerce and other big-impact technology solutions, and an overview of key business trends — and market concerns.
Methodology
The results of this study are based on an email survey sent to Industrial Distribution subscribers in April 2023, with a collection time of three weeks. Recipients of the survey were offered an incentive to complete the questionnaire. The majority of ID's subscriber base is comprised of readers who identify as executive, upper management, sales or sales management. Results are based on our pool of survey respondents from within this subscriber base.
Comments on this year's results? Email ID executive editor Anna Wells at [email protected].
Demographics
Distributors who responded to our survey this year represent diverse geographic footprints with 36% of respondents hailing from the Midwest, 21% from the Northeast,13% from the West and 10% each from the Southwest and Southeast.
Many of these businesses are legacy distributors, with 85% working for companies that have been in existence for 25 years or more. More than half of total respondents (52%) come from companies older than 50.
Survey data also largely indicates behaviors at smaller distributors. For example, 54% of respondents represent distributors who yield annual revenue of $20 million or less. On the flip side, 12% of respondents represent companies with revenues of $500 million+ annually, and 9% are from companies with $250 to $500 million. About one in five respondents exist in the mid-range, with annual revenues of $50 to $250 million.
Eighty-two percent of respondents to our survey sell to customers in manufacturing and processing; 59% reach OEM customers; 57% in construction and 53% in government. Nearly half also serve utilities and energy markets.
Additionally:
Three out of four respondents work for a family-owned business.
The most common product categories carried by these distributors are MRO Supplies (47%), PPE (38%), Safety Supplies (37%), Adhesives & Sealants (37%), Hand Tools (36%), Cutting Tools (34%), and Pipes & Tubing (33%).
64% of respondents say the number of product categories they carry has expanded compared to last year.
Challenges, Trends and the Economy
During the time ID's distributor operations survey was in the field last spring, the Federal Reserve had just raised its key interest rate for the first time in more than three years — a response to surging inflation amid a strong economic recovery from the COVID pandemic.
One year and nine – nine! – more rate hikes later, the sentiments of distributors appear to mirror those of many economic observers. The rate increases appear to be taming inflation somewhat – although not as much as some Fed officials had hoped – but they might also be poised to send the economy into a recession.
Last year, as usual, "economic conditions" topped distributors' lists of business concerns, identified by nearly half of respondents, while "inflation" and "increased operating costs" were listed by more than 40% of participants.
This year, the share of respondents worried about inflation dropped to 34% — but the number worried about economic conditions spiked to more than 66%.
About the same percentage – 42% – continued to express concern about elevated operating costs, while the other top worries from last year, both related to employment, each declined in the 2023 survey. Forty-one percent of respondents indicated concern about "keeping qualified employees" and "finding more qualified people" last year; this year, those dropped to 27% and 32%, respectively, possibly a sign of a softer labor market – and overall economy – than at this point a year ago.
Other major concerns singled out by respondents in this year's survey included price competition, identified by 26% of distributors; manufacturers selling direct, at 25%; and distributor competition with 23%.
Amid more widespread economic concerns, distributors overwhelmingly hope to grow their businesses by adding new customers and expanding orders from their existing ones. Nearly 80% of respondents have prioritized existing customer sales growth, while 63% aim to bolster their customer base. Both totals were up from last year's report. Just more than one-third of respondents, meanwhile, indicated their companies are taking aim at select competitors in order to gain more market share.
Uncertain economic conditions could also be playing a part in changing attitudes related to mergers and acquisitions.
Last year, 77% of poll respondents said they wouldn't be interested in a buyout of their company; this year, that number dropped to 64%. Pursuers, however, also appear to be on the rise following a strong post-pandemic recovery and a broadly excellent 2022 for the industry: 36% said they are actively looking to acquire another distributor, up from 24% last year. Twenty-three percent of respondents also listed mergers among their top strategies for growth for 2023. Those increases follow a year of elevated merger inquiries – amid a long-term industry consolidation trend – as the distribution sector moved another year away from the pandemic: 27% of survey participants said their company was approached about a merger in the preceding 12 months, and 25% said their company sought out a purchase over that span, up from 21% and 19%, respectively, in the previous year's survey. About one-fifth of distributors, meanwhile, listed mergers and acquisitions among their top business concerns in the latest poll.
Asked about their company's disaster preparedness plans, about one-fifth of participants responded with "excellent," while nearly half – 47% – rated their company's efforts as "good." The second-largest percentage, at 32%, classified their plans as "fair," but, on the bright side, no one considered their company's disaster preparedness to be either "poor" or "very poor."
Tech Usage & Investments
In early 2021, as the world was just beginning to see the light at the end of the tunnel of the pandemic era, nearly 90% of respondents to that year's Survey of Distributor Operations called e-commerce a priority after a year of little to no in-person, well, anything. One year later, that number returned to more historically normal levels at 57%, and this year, it dropped even further to 52%; if it's not obvious, that means that nearly half of distributors in the survey – 48% – don't consider e-commerce a priority at the moment.
Instead, they tend to use their websites to promote more traditional avenues for business: 46% of participants said they primarily utilize company websites for marketing and 42% host product or technical information, followed by efforts to drum up new business — 39% to generate leads and 35% to find new customers. Just 31% of respondents identified e-commerce as a primary use for their websites.
A solid majority of respondents, 59%, said their companies are currently generating web-based revenues – well ahead of last year's 44% – but those amounts tended to be relatively small. More than 80% of participants said web-generated revenues account for 20% or less of overall company revenue – and more than two-thirds said that number was less than 10% – but a strong majority, at 75%, also expect internet sales to increase in the coming year, up from 62% last year. One in 10 survey participants, meanwhile, said revenues from the web comprised at least half of total revenue.
The frequency with which distributors are updating their websites appears to be on the rise, according to the latest survey results. Last year, the largest share of respondents said websites were updated monthly, followed by daily or weekly. This year, that has flipped: 38% said they update their websites at least every week, and 29% said it happened monthly. About one-third, however, said they make updates either every few months, or hardly at all. Broader website redesigns are on the radar for the vast majority of distributors, as well: nearly 80% have overhauled their sites in the past three years – including 43% within the past year – while another 8% expect to do so within the next year. A little more than 12% said they haven't made wholesale changes in at least three years.
Despite the apparent declining interest in e-commerce, participants in the 2023 operations survey have broadly embraced technology. More than 60%, for instance, said they use analytics and business intelligence to make decisions. Two-thirds said they're using customer relationship management (CRM) software, and 55% have deployed enterprise resource planning (ERP) software. Those two systems were also identified as the most impactful technologies for distributors' businesses over the past year, although more than half of respondents said they did not utilize cloud ERP systems and had no imminent plans to do so. Fewer numbers of respondents were using other systems, such as warehouse automation technology or warehouse management systems, but interest in adding them was high among survey participants.
Nothing, however, piqued distributors' interest more than artificial intelligence. Although just 10% of respondents said their businesses currently used AI, nearly one-third anticipate incorporating AI technology over the next two years — more than any other option included in the survey.
And although distributors were split about the importance of e-commerce, they were effectively unified about the online shopping experience for themselves: 93% of respondents said they purchased products using the internet.
Read part two of the 2023 Survey of Distributor Operations, featuring revenue projections, best practices, and the value of distributors to their customers, here.