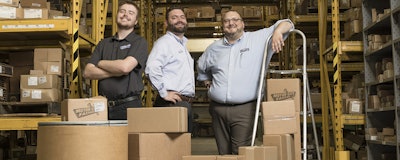 Growth and Change
Following merger, rapidly expanding Motor City Industrial ramps up VMI, e-commerce offerings
It's one thing to experience tremendous company growth in a short amount of time. It's another to do that while simultaneously making an entirely new product line be half the business — oh, and while adding a new CEO along the way.
That's what the team at Motor City Industrial have managed over the past two years, and is going full-steam ahead with as a modern fastener distributor and vending service provider.
How They Got Here
MCI was formed through Hazel Park, MI-based Motor City Fastener's early 2017 acquisition of Charlotte, NC-based EMCO Inc. — a distributor of electrical, mechanical, fluid power and automation products. The move instantly doubled Motor City's sales and geographical market, and the combined and rebranded company has been aggressive ever since. That following July, 25-year Fastenal veteran Joe Stephens was appointed CEO, and one month later, MCI opened its third Detroit-area location that following summer in Auburn Hills, joining Hazel Park and Farmington Hills. And at the start of 2018, MCI launched an e-commerce platform and revamped website.
Controlling Growth
With that much growth in a little more than 12 months, how did MCI handle it?
"As you go to try to accomplish that much in a short period of time, it can be very frustrating to the organization," says Stephens, who spent his last 15 years at Fastenal as a regional vice president. "As we've gone through this process, there have been many, many conversations, both excited and frustrated, as we implement all these new systems. The store openings were no small feat. The website launch was no small feat. Nothing really came easy. How we've tried to manage that is by constant communication, and so we find ourselves telling the same story over and over. And it's important that we not get tired of doing that so that everybody understands what we're trying to build, where we're trying to go, and why we're making the decisions that we make."
Many distributors have found hiring new talent to be tough-sledding with the low U.S. unemployment rate and challenge of recruiting young people into the industry. But MCI helped staff its new locations through its partnership with nearby Wayne State University in Detroit. The company's internship program with the school has resulted in many MCI's current full-time employees and a hiring pipeline.
A Win-Win Merger
Any mid-sized company that's either made or been through a merger or acquisition knows it can be a challenging time for both parties involved. Meshing cultures and operational procedures is a tall task, as is figuring out the logistics of how one side will work with the other. Backed by Kian Capital Partners and private investment firm Oakland Standard Co., Motor City Fastener sought out a regional distributor with a culture similar to its own, and it found that in EMCO.
"Knowing Joe (Stephens) as long as I have and being around that Motor City team — whether it's phone calls, conferencing or in-person, the culture has always matched up very well," says Rock Nelson, president of EMCO since February 2017. "I had never been through an acquisition before, but I can't imagine it going any smoother than it did."
The integration process — finances, operations, sales, distribution and logistics — took about four months to complete. Conferencing in Nelson from North Carolina, Stephens and the Motor City management team would meet once per week during that process to do updates on project charters — laying out each individual task, assign someone to it and had everyone keep each other updated on the progress of each task.
From there, MCI utilized a public relations firm to help get the word out about the company rebranding, while spreading the message themselves via their inside sales team and indirect marketing.
The merger gained MCI new product lines in hydraulics, pneumatics, electrical components and bearings, as well as well as the technical aptitude to take them to market. Likewise, the move opened EMCO to dip into the fasteners, safety and abrasives market.
Forward-Thinking E-Commerce
With a new-look company in place, it was time to further modernize it on the digital side. MCI used a third party to help build an e-commerce platform from the ground up, and the management team wasn't shy about weighing in on the debate many industrial distributors have about whether e-commerce is necessary before customers ask for it.
"I always like to quote The Shawshank Redemption: 'Get busy living, or get busy dying'" says Jay Fielder, MCI's supply chain technology manager. "Eventually you're going to need it. If you're going to hit a wall, if you want to grow at any point in this business, you have to have e-commerce. It's just the nature of the beast. With way more millennials and younger people coming into purchasing roles, you'll eventually become limited by the amount of growth you can achieve without it."
"Our strategy with it was to augment our brick-and-mortar," Stephens adds. "Ultimately, as a distributor, we can't ignore the fact that e-commerce is a critical component of the omnichannel strategy. To grow this company — although it's not a large portion of our sales at this point — we must continue to invest in it to make sure it's available to our customers who want to buy from us that way."
CribBoss: Inventory Problem-Solver
While fastener product sales has been MCI's core role going since its 1966 beginning, inventory management solutions have been the biggest new company direction in recent years. The company's services are four-pronged, covering process mapping, parts management, deployment and user interface. It's an all-encompassing offering set to help customers get a better handle on their inventory.
In a nutshell, the typical process involves MCI going to the customer's location and learning what their product usage is, where they're using it and then heat mapping their floor to see exactly where the inefficiencies are. From there, MCI develops a custom parts management plan and implements one or more solutions in its 2016 trademarked CribBoss suite of vending technology, which includes weight-based systems, coil machines, locker machines, two-bin systems, free-issue bin systems and kitting. Each solution helps streamline the customer's supply chain, eliminate part redundancy and increase efficiency. Once an overall plan is agreed upon, MCI installs the solution(s) at the customer's location. From there, it's onto user interface — the data collection phase.
"That's the bread and butter of all this," Fielder says. "You'll end up getting a vast amount of data from these machines. That allows us to go back later and keep making their system better and streamlined. It creates an ongoing cycle."
The first flagship machine in MCI's CribBoss offering was the Actylus smart bin systems made by Apex Supply Chain Technologies. Run by cloud software, the automated systems are well-lit, provide real-time inventory levels to the user and send automatic alerts when stock is low.
"The weight-based component of that machine is important to us because we have so many production customers," Stephens says about Actylus. "It was a great machine for that production environment, particularly with low value, high volume parts. We can move a lot of parts through that quickly, but it also allows us to granulate the data, see the part usage on individual work cells within our manufacturing customers and then start comparing them to their build materials."
While weight-based scales aren't right for everybody, nor are vending machines or kitting right for every application, MCI says there is some form of VMI in at least half its overall revenue.
What's New?
As the MCI team continues to enhance its VMI offering, it's building up other areas of the business as well. The company has introduced 40 new product lines over the past two years, many of them complementing fastening, like abrasives and safety. Small, consumable products like that are the same ones MCI's CribBoss solutions aim to curtail customers' tail spend on. Many of the other new product lines came with the EMCO merger.
Looking ahead, Stephens says MCI's financial backers are acquisition-driven, so further company expansion can be expected in the near future, while organic growth is a key component as well.
"We want both and we'll take as much of both as we possibly can," Stephens says. "You will continue to see us make acquisitions. We hope to complete a couple more this year. We will continue to grow organically as well. The green field and acquisition investments are both about getting a larger footprint, getting more scale to increase our buying power, further lower our costs and provide our customers with access to more markets and more products at better prices."