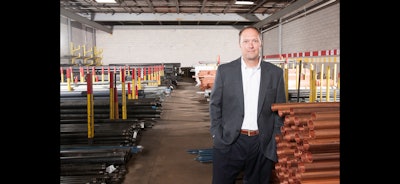 Plumbing, industrial and heating distributor Rundle-Spence remains adaptive after 146 years
How many distributors can you name that list the phone numbers and email contacts for their president, sales managers and each of its outside salespeople right on its website? Odds are not many, if any at all. But that's the case at New Berlin, WI-based Rundle-Spence Mfg. Co., a plumbing, heating and industrial distributor, where transparency and a culture of adaptation has kept the company going strong even after 146 years in business.

History
Besides transparency, longevity is another unique factor for the company that serves greater eastern and southern Wisconsin from its three locations. The 'Mfg.' portion of Rundle-Spence's company name is a callback to its 1871 roots as a china and iron manufacturer and plumbing wholesaler in downtown Milwaukee. The drinking fountain, known to many in Wisconsin as a 'bubbler,' was patented by Rundle-Spence in the late 1800's. The company's founders were Joseph P. Rundle and Thomas Spence, the latter of which was a company executive until his passing at age 81.
Fifth-generation president David Spence quotes his grandfather saying the company helped famed plumbing manufacturer Kohler Co. — based an hour north of Rundle-Spence — make its first delivery in a horse and buggy, and helped Kohler supply some of its early products. Following World War I, Rundle-Spence opened a Madison location in 1920 and began to shift from production to wholesale. The company produced shell casings during WWII from its brass foundry, which it closed down after the war effort and become predominantly a distributor.
In 1965 the company moved its headquarters from Milwaukee about 15 miles west to its current New Berlin location, where it has 100,000 square feet of warehouse space.
"I think I speak for everyone when I say there's a sense of pride in being a company that's so old," David Spence says. There's not too many wholesalers — let alone companies overall — that are still around after 146 years. I think it means a lot to our industry. I'm excited about the history and the march to 150."
The company created its well and septic division in 2009. Three years later it opened its Fond du Lac, WI location, allowing Rundle-Spence to better service customers further north up to Green Bay.
As the company nears its sesquicentennial, it won't be resting on its laurels.
"There's certainly a sense of pride and responsibility," says David's brother Rob Spence, the company's vice president. "We're not just the owners, but the caretakers. We're not looking to just build the company up for our own wealth. We're looking to set it up to maintain for future generations. We want to be a strong company in southern Wisconsin for many years to come."
Technology
Rundle-Spence's adaptability to market trends has helped it remain successful all these years, and that's evident in how its current generation of executives have embraced technology. David Spence's background in information technology helped the company get in the e-commerce game early on, launching its online sales offering in 2007. Recently it made its e-commerce website mobile-friendly, has looked into offering a mobile app and a website specifically for its showroom. The executive team is also evaluating a product information manager and data enhancement service that could build a more robust e-commerce solution in 2018.
E-commerce only represents about 1.5 percent of total sales at Rundle-Spence, the Spencer brothers say it's not the dollar amount that matters. It's about ensuring that customers have easy access to check inventory levels, pricing and find spec sheets.
"Some of our customer base is relatively small shops, and those people are in the field all day working," Rob Spence says. "They're going to the website not just to place an order; they want to see if you have something they're looking for without needing to call in."
The company is currently undergoing a major online overhaul aimed to boost the content side of the website and bring more information about services, products and education. Spence says the launch goal for the revamped website is Q2 of this year.
"It's the old adage of, 'If you're standing still, you're dying," David Spence says regarding e-commerce, and technology as a whole. "With a company our size, we have to show people that not only can we turn on a dime and answer questions, but we can offer the same service the larger players can — and we do. We pride ourselves on investing in technology. We've really been doing it for the past 20 years."
Rundle-Spence has incorporated other modern technology besides just the online element. All of its delivery trucks have GPS, which has allowed inside and outside salespeople to provide customers with a three-minute window of when to expect product to show up instead of the old method of just having a warehouse manager guestimate arrival times.
"Now we just look online and say, 'he's going to be there within three minutes of 10:36,' David Spence says. "Those technologies have created better efficiencies, and there's a handful more that are on our radar."
Service
When discussing the services Rundle-Spence offers, one has to start with Red Hot — which includes emergency delivery and 24-hour repair offerings — which has been a strong business and a differentiator against larger competitors that can cut prices. The company has long offered Red Hot delivery, which began with commercial water heater delivery. Water heater sales were slow, so Rundle-Spence enhanced that offering when it purchased and customized several trucks with racks, lifts and electronic dollies capable of holding 1,500 lbs. worth of water heaters.
"Our sales went up unbelievably within a year, and we're maintaining that level," David Spence says.
Soon after, a competitor began carrying the same brand of water heater that Rundle-Spence carries and started selling it cheaper. The company adapted to that two years ago by beginning Red Hot Repair, in which Rundle-Spence repairs water heaters, boilers, tankless heaters and more as an enhancement to customers.
"It's been an incredible success," David Spence says of Red Hot Repair. "A lot of our customers don't have time to go service those things, and they certainly don't want to call one of their competitors that might be a service agent in our area. It's really led us to put a push with our salespeople to emphasize our services that set us apart."
Another one of Rundle-Spence's value-added offerings is engineering, where a customer can get help with a project's design work — whether that involves boiler sizing, tubing or piping layout, electrical schematics or something else. The company says that service has bled over into other markets and has allowed smaller customers that don't have an engineering-savvy staff to pick up a medium-sized project and have Rundle-Spence help backfill expertise on the job site.
Rundle-Spence also offers fabrication from its shop where it cuts threat, rolls grooved pipe and puts spools of pipe together, another way of helping customers take on bigger projects than they may have shied away from without their own shop.
Another element that sets Rundle-Spence apart from its larger competitors like HD Supply or Ferguson is the fact that it serves contractor customers exclusively, whereas most other large wholesalers also sell retail.
"We've always focused exclusively on the professional contractor. We think that gives us an advantage with loyalty," David Spence says. "Other companies might be spreading themselves thin by marketing to different types of customers."
Rundle-Spence's service offering is apparent the moment a customer calls in and immediately hears a receptionist ask, 'Plumbing, industrial or heating?' That's because the company has product specialists in each area. If someone calls in wanting an actuated valve, they won't get routed to someone who instead knows a lot more about plumbing. They'll get someone in industrial who can ask all the right questions and provide answers.
Rundle-Spence's transparency helps its customers, and the company itself. Being upfront with the company's in-depth contact information ensures any customer that needs help will get it.
"The thing I never want to hear is, 'I couldn't get a hold of you guys,'" David Spence says. "There's some websites where you can't even find an address or phone number. That's not good customer service."
Rundle-Spence also takes pride in its flat structure, which enables quick decision-making and response time to customers. Whether it's one of the Spence brothers, industrial sales manager Jeff Michaels or one of the company's other managers, there's a number of employees who can make decisions on the customer's behalf without needing to get more people involved and slow the process.
Diversification
One reason Rundle-Spence is still going strong after 146 years is its diverse offering. Plumbing may be the company's bread-and-butter, but its heating, industrial, well & septic and green technology divisions combine to form a broad offering that helps keep overall business steady if sales are down in one or more of those areas.
Such was the case during the Great Recession of 2008-09, when the plumbing sales dropped off marketwide due to the housing market collapse. During that time, Rundle-Spence's strong industrial division helped the company persevere. The opposite has been the case during the market-wide industrial products slowdown since the summer of 2014, while Rundle-Spence's plumbing business has continued to grow.
"Our diversity is one of our strongest suits. We have a number of divisions and that helps us during downturns," David Spence says. "I don't think I've ever seen a time when all our divisions are at their peak, and now is a good example with industrial being down."
Rundle-Spence — like many industrial distributors and suppliers — are optimistic about the industrial market going forward under a Trump administration that vows to roll back regulations and boost U.S. manufacturing. For many industrial customers that went conservative these past two years, that could mean a return to spending.
"We didn't crash, but there's some bigger customers of ours that really put the brakes on any capital updates. Now, money is better, regulations are better — it's a better business economy for the country," says Michaels, a 22-year company veteran, adding that he thinks the market will progress out of its slow period over the next 6 to 12 months.
"With the new administration, I see some excitement and I think our industrial is going to come back. I think commercial and plumbing will continue to grow," echoes David Spence. "I'm really excited for these next few years."
This article was originally published in ID's March/April print issue. To view the full digital edition, click here.