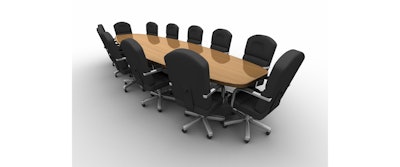 A recent report suggests that prominent industrial companies are experiencing sufficient board turnover, but urged them to focus on wide-ranging skills when evaluating new candidates.

Professional services giant PwC last week released "A Look At Board Composition," which examined corporate board memberships across nine different sectors.
The report said that installing new board members is particularly crucial in the industrial products segment, which is experiencing dramatic technological change. A diverse, dynamic board, analysts wrote, can guide management strategy, address industry trends and mitigate potential disruptions.
The analysis of 27 large industrial products companies — and their performance compared to companies on the S&P 500 index — showed that manufacturers were faster to adopt mandatory board retirement ages than large companies as a whole.
Seventy-eight percent of manufacturers established retirement ages compared to 73 percent of the S&P 500; without those limits, analysts wrote, refreshing board membership can be difficult.
Term limits for board members were enacted for just 4 percent of manufacturers and 3 percent of the S&P, but PwC estimated that the percentages for both could rise as investors push for new faces on corporate boards.
Turnover on industrial product company boards, at 8 percent, was narrowly ahead of the S&P last year, but researchers speculated that higher rates of dissatisfaction with board members in 2015 contributed to that increase.
The report, however, also pointed to some issues within the industrial products segment.
Seventy percent of those companies featured a combined chairman and CEO compared to just 52 percent of S&P 500 companies as investors increasingly favor an independent board chairman.
And although the percent of women on manufacturer boards matched the S&P at 21 percent, the rate did not increase at the same pace last year.
PwC analysts warned that in addition to gender, companies should also take other factors into account when evaluating board diversity, from race and ethnicity to age, experience, geography and "diversity of thought and perspective."
Manufacturing, in particular, requires directors with a global outlook and an understanding of technological promise — and risk — in addition to business skills. They should also be able to challenge management and act independently — including assessing how companies implement new technology and attract and retain talent.
PwC also said that the rise of activist investors and regulatory pressure could restrict company growth through mergers and acquisitions, and suggested that companies consider candidates with ties to venture capital and private equity.
"This sounds like a tall order," analysts wrote. "But without these attributes, a board may not be able to ensure its company is agile and flexible enough to deal with massive disruption and transformation."