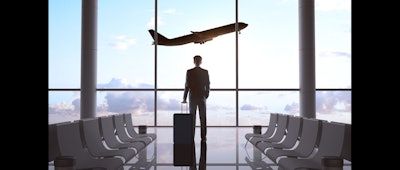 There are lots of pressures facing distributors in today's marketplace, but one stands head-and-shoulders above the others: the growing shift of direct-to-end-customer orders, driven primarily by e-commerce giants such as Amazon, which cut out distributors. According to a recent survey from the Aberdeen Group, 80 percent of wholesale distributors are concerned about the impact to costs and profitability due to this B2C surge.
This convergence of B2B and B2C — where the market shifts toward a B2C-style model rather than the traditional wholesale distribution model — also influences order density, labor costs and product demand for distributors. In short, online retailers have made consumers accustomed to a new way of buying replete with its own benefits, and wholesale distributors need to keep pace or risk losing customers.
As distributors scramble to hold onto market share as a result, they look for ways to differentiate themselves and encourage their customers — retailers, dealers, VARs and others — to do more business with them, rather than the competition. And one essential, tried-and-true way of doing that is through incentive travel. Wholesale distribution has always been a business of relationships between customers and partners. With a targeted, well-designed incentive travel program, distributors will forge stronger alliances with key partners.
Incentive travel programs offer valuable time with your customers, help promote loyalty and ultimately drive sales. When properly designed and executed, incentive travel programs can increase sales productivity by 18 percent and produce an ROI of 112 percent, according to studies from the Incentive Research Foundation.
However, if you don't pay close attention to how incentive travel programs are moving your business forward, they can quickly become an entitlement for your customers and a financial burden for you, rather than a viable investment.
Given the crunch distributors are in, finding a way to optimize and improve the strategy at the heart of an incentive travel program is imperative to success. What can distributors do to ensure their incentive travel programs build customer loyalty and increase sales? Start with a progressive, forward-thinking strategy.
If you use an incentive travel program to incite growth, ask these five questions to evaluate your strategy and maximize the engagement and ROI your incentive travel program delivers.
How much incremental growth did your incentive travel participants contribute to your bottom line?
If a consistent group of customers attends your incentive travel trip each year, chances are high you're not encouraging sales in the right way. While it's always important to reward your highest-value customers, it's critical to also focus on the performance of your middle- and low-tier customers, as they have substantial potential for doing even more business with you.
By definition, your incentive travel trip should create ROI for your company. If it's not, it's time to take a deep dive into program strategy. By adjusting focus to incite growth across all of your customers, you'll build the profitability you need.
Is feedback a component of your incentive travel trip?
Incentive travel is not just a pot of gold at the end of the rainbow. It's also an incredible opportunity where all of your top customers are together at the same time in a new environment. Take advantage of it.
Fill your customers in on any new services or products you offer and help them understand the value of doing business with you. Additionally, allow time for open feedback on company issues to get insight into what top customers think of your company's trajectory. Keep an open ear to what they say and find actionable, powerful truth.
How do you maximize engagement throughout the earning period?
An incentive travel trip scheduled 15 months after its announcement can seem a long way away to participants. To keep them engaged, and to keep the program front-of-mind throughout the earning period, continual, action-inspiring communications are crucial.
No matter the medium, one burst of communications at the program launch will not yield the engagement you need. Ongoing communications for all of your customers that infuse excitement are an important part of any incentive strategy.
Today, your customers are multigenerational, from baby boomers to Generation Z and everyone in between. That's why a mixed digital and print approach is the best way to get the sustained impact you need.
How can you capitalize on non-attendees to help your program grow in the future?
It's a little-known secret of incentive travel programs: the people who didn't make the cut on your program may even be more important than the ones who did.
Why? Because they see the photos and Facebook posts of participants having the time of their lives. They hear stories of their fun and adventure. And they really don't want to miss the cut next time. That FOMO ("Fear of Missing Out") is precisely what you want those who couldn't attend to feel, and it's targeted to inspire top performance next time around.
Plus, the facts and figures from non-attendees can be valuable to program optimization. By analyzing and tracking all participants' achievements and sales in the program — not just those who earned the trip — you'll uncover key details about what worked, what didn't and what could be improved in your program. Then, that data can be turned into actionable recommendations for continual improvement, year after year.
With a dynamic strategy at its heart, your incentive travel program will become a valuable tool to build customer loyalty. An outstanding, strategic incentive travel program wards off sales and market share challenges and keep your business strong and growing.
Jill Anonson has more than 20 years of experience in strategic incentive travel, event management, and sales strategy, and serves as the Events Solution Manager at ITA Group. In her role, she is responsible for market definition, competitive research, business plan development and more while creating strategies and solutions that help ITA Group thrive. ITA Group creates and manages incentives, events and recognition programs that align and motivate people.