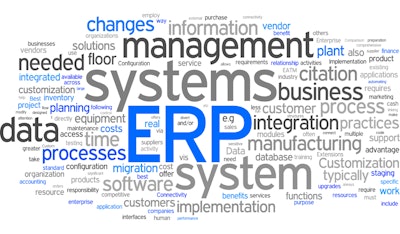 As distribution business models continue to evolve, many companies are discovering that their legacy enterprise resource planning (ERP) solutions are no longer keeping pace with changing industry demands. Antiquated ERP systems often deliver limited functionality and prevent organizations from improving collaboration and efficiency through a lack of integration with other critical systems. Gartner says that "as alternatives to monolithic, on-premise ERP and enterprise applications continue to mature, CIOs and application leaders must take action to address the fast approaching reality of legacy ERP and its implications for their business in the postmodern world." Now is the time for distributors to look to modern ERP to facilitate differentiation, promote growth and prepare their business for the future.
Across the increasingly competitive distribution landscape, understanding the needs of customers is paramount. As new solutions emerge, expectations evolve and buyer behavior changes, it is critical to remain cognizant of what customers truly value, as understanding the nuances of what drives their behavior is where profitability lies. It is also necessary to possess the flexibility required to adjust business practices to meet these needs.
In the recent past, ERP systems were treated as a convenient and holistic starting point, with the expectation that either in-house IT staff or consulting services would perform significant modifications over time to align the solution with established business processes. This should no longer be expected. Solution providers should be challenging modification needs, diving deeper into their purpose and trying to find a solution that can be part of the existing process. Modifications have since been pinpointed as deterrents that hold companies back from remaining current and obtaining full value for their investment and maintenance. However, it is important not to confuse modifications (altering code) with personalization (showing an alternate view). Today's modern ERP offers personalization as a great alternative to modification requests.
When using business systems created expressly for their industry, distributors experience complete support for the unique attributes of products that are sourced and sold. Some solutions extend further with functionality specific to micro-verticals such as electrical distribution or building material (BMAT) distribution. In this instance, distributors benefit from modules and capabilities designed around the way business is done in their niche market. These types of ERP systems help to speed daily operations because they support that distributor's particular inventory types, while also delivering capabilities for non-stock and specialty order items, rebates, contract pricing, and the vast amounts of product data that must be captured and disseminated by distributors each day.
Modern ERP solutions provide flexible integration options that help companies to create an enterprise-wide view of processes. Rather than producing data silos, as is the case with many legacy ERP systems, the latest ERP solutions help distributors to create a holistic technology environment that enables visibility across previously unconnected systems. With insights into operations outside their own department, users are equipped to make better informed decisions and can complete daily tasks faster with real-time access to information. Many modern ERPs are also intuitive in nature, and will automatically display critical data in easy-to-read charts and dashboards based on the user's current task. Role-specific key performance indicators (KPIs) and action items are also utilized to help employees work more efficiently.
By achieving this level of integration, distributors position themselves to realize even more benefits from modern technology tools. If a modern ERP is in place, social collaboration platforms can be utilized to help distributors reduce reliance on less efficient communication methods like email. Users are often overwhelmed with data, and social tools offer a unified space for storing information in an easily searchable format. Platforms should not be used as add-ons to the ERP, but instead should be fully integrated so users have the advantage of consolidated access and the application can automatically aggregate data from core systems. Social tools that allow employees to "follow" events or assets in addition to other users stand to deliver the most benefits for distributors, as these platforms are the most effective in capturing vital corporate knowledge and helping to speed response times with automated alerts and workflows.
In addition to social collaboration tools, relying on a modern, integrated ERP environment allows distributors access to more robust analytics. When critical data is stored in a single location and updated in real-time, companies are then positioned to utilize in-context business intelligence (BI) applications to derive actionable insights for their organization. Consolidating the information is the first step, and then distributors can drill down into data to pinpoint areas for improved performance and efficiency. Today's BI tools often offer personalized dashboards, workflows and industry-specific reporting capabilities that can help to further improve daily decision-making. By turning siloed information sources into synchronized ones, distributors can transform raw data into valuable information that can help to streamline operations and reduce costs.
Replacing or updating legacy ERP systems is necessary for distributors to attract top talent. According to the Bureau of Labor Statistics, 5.6 million people are expected to leave the workforce between 2008 and 2018, "mainly as a result of aging and retirement." This means that distributors will be replacing individuals with decades of experience with millennials and other technology-dependent job seekers. Next-generation employees expect to work with technology that mimics what they are accustomed to in everyday life, in both functionality and look-and-feel. Implementing a modern ERP system with a consumer-grade user interface is an excellent way to increase the likelihood that new employees will remain with the company. This also demonstrates that the distributor is investing in the future of their business and worth the effort of long-term investment from employees.
The same benefits can be cited for mobility. Employees are now accustomed to having anywhere, anytime access to information via a tablet or smart phone. More than just appealing to millennial users, social and mobility tools benefit all employees by helping them to increase productivity and efficiency. Mobile platforms allow users to view and update information while away from their desk, which speeds daily activities and helps them to complete more work in a shorter time period. For employees that are frequently on the move, such as account executives or warehouse managers, having access to the ERP system via a mobile device can completely change the way they structure and approach their day.
Today's ERP technology options are abundant. By seeking out an industry-specific solution that enables flexible integration with other critical systems and delivers a modern user interface, distributors are poised to capitalize on additional social, mobile and analytics tools. When combined, these applications create the agile, collaborative and intuitive environment necessary for distributors to optimize operations, better meet customer needs and remain key players in the market.