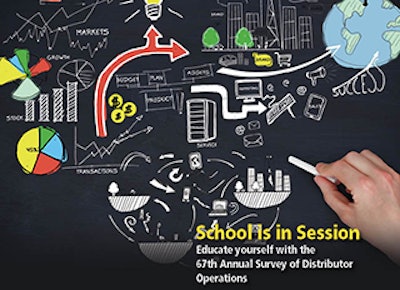 We're excited to provide the readers of Industrial Distribution with the results of our 67th annual Survey of Distributor Operations. The objectives of this report, as always, have been to understand the most critical issues affecting distributors, and to provide data to help drive their educated business decisions. In this segment, we focus specifically on:
Demographics, which establishes a profile of survey respondents based on company size, sales volume, and product line.
Challenges, Trends & Economy, which outlines the initiatives distributors are undertaking to address key business and market concerns.
The Balance Sheet, which offers insights into revenues and profitability.
Best Practices, which sheds light on distributor relationships with suppliers and customers, as well as their global business plans.
Tech Usage & Investments, which covers areas like e-commerce and other big-impact technology solutions.
Value of the Distributor, which addresses the reasons our survey respondents believe customers do business with them.
Employment, which identifies hiring and layoff trends, recruitment, and compensation.
Methodology
The results of this study are based on an email survey sent to Industrial Distribution subscribers. Recipients of the survey were offered an incentive to complete the questionnaire.
Industrial Distribution's subscriber base is comprised of 27,000 readers, the majority of whom identify as executive, upper management, sales, or sales management. Results are based on a pool of respondents within this subscriber base.
Because Industrial Distribution transitioned to a new publisher in 2010, no survey was conducted that year. Therefore, results which track comparisons over the past decade will reflect a gap between 2009 and 2011.
Comments on this year's results? Email ID's executive editor, Anna Wells, at Anna.Wells@advantagemedia.com.
---
Employment
A universal indicator of overall economic health, the job numbers released each month by the Bureau of Labor Statics have told a varying story this past year.
The industrial sector, however, tells a slightly more positive one. Over 50 percent of survey respondents have added staff in the past 12 months, a similar figure to last year. The number of distributors who have reduced staff in the last year declined four percentage points, down from 18 percent last year, as is the number who anticipate the need to reduce staff in the coming year. On the uptick is the number of distributors who anticipate needing to hire additional staff: this figure is up eight points from last year to 30 percent, a good sign even amidst the economic uncertainty of the end of 2013.

Staff additions over the past year for distributors have been primarily in the sales category, with 65 percent of distributors reporting that they had added sales staff in the last twelve months (Figure 1). Other big categories include the warehouse, customer support, and operations. Sixteen percent of distributors had even added staff to all of these categories and more. Administration and clerical hiring seems to have leveled off some in the last year, indicating that distributors already have on staff who they need, or are waiting for volume to pick up just a bit more before adding more back office support to the roster. These numbers align similarly with last year, indicating that distributors are feeling more comfortable with the economic situation overall.
Coincidentally, if distributors have cut staff in the last 12 months, it has most likely been from the warehouse (38 percent). This could be because higher volumes are causing distributors to look into more automation technologies than ever before. The data could also account for the fact that 96 percent of survey respondents value hiring technically trained employees for what available positions they do have (Figure 2).
Since distributors are adding staff at higher rates than before, it is interesting to note that only 60 percent of respondents indicated that they are able to find suitable (i.e. available and qualified) job applicants. The skills gap has been a major topic of interest in recent years, particularly in the manufacturing segment. It appears that the distribution industry is no different, and that there is a need now more than ever to target and train employees specifically for distribution.

When a distributorship does acquire an all-star employee, they are generally interested in hanging onto them for the long haul. Loyalty is something that the distribution industry is known for, and it doesn't seem to be changing despite the rest of the economic climate in the United States. Many distributors are willing to reward long-term employees with great incentives to stay, and many offer employee-ownership programs.
Sixty-nine percent of survey respondents report that they offer higher pay for higher performance as a way on retaining their staff (Figure 3). In second place, 55 percent of employers offer training as a means of incentive, and 53 percent strive to offer improved benefits packages such as flexible hours. The most common benefit offered was health insurance (89 percent), followed by a 401K/pension (77 percent), and bonus compensation programs (62 percent). As a means of retaining employees, tuition reimbursement came in fourth at 24 percent. "Other" answers included offering morale-based incentives and maintaining national contracts as ways to keep their people happy.
Benefits packages seem to be a bit safer than they have in the past as well, with only 12 percent of distributors responding that they have had to cut benefits in the past year, a number that is down almost ten percentage points from the 2009 survey in the wake of the 2008 shake-up.
That wraps up the 67th Survey of Distributor Operations. To view the entire survey in our digital edition, please click here.