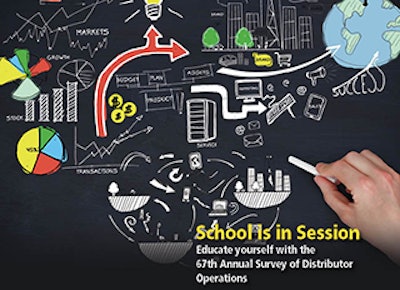 We're excited to provide the readers of Industrial Distribution with the results of our 67th annual Survey of Distributor Operations. The objectives of this report, as always, have been to understand the most critical issues affecting distributors, and to provide data to help drive their educated business decisions. In this segment, we focus specifically on:
Demographics, which establishes a profile of survey respondents based on company size, sales volume, and product line.
Challenges, Trends & Economy, which outlines the initiatives distributors are undertaking to address key business and market concerns.
The Balance Sheet, which offers insights into revenues and profitability.
Best Practices, which sheds light on distributor relationships with suppliers and customers, as well as their global business plans.
Tech Usage & Investments, which covers areas like e-commerce and other big-impact technology solutions.
Value of the Distributor, which addresses the reasons our survey respondents believe customers do business with them.
Employment, which identifies hiring and layoff trends, recruitment, and compensation.
Methodology
The results of this study are based on an email survey sent to Industrial Distribution subscribers. Recipients of the survey were offered an incentive to complete the questionnaire.
Industrial Distribution's subscriber base is comprised of 27,000 readers, the majority of whom identify as executive, upper management, sales, or sales management. Results are based on a pool of respondents within this subscriber base.
Because Industrial Distribution transitioned to a new publisher in 2010, no survey was conducted that year. Therefore, results which track comparisons over the past decade will reflect a gap between 2009 and 2011.
Comments on this year's results? Email ID's executive editor, Anna Wells, at [email protected].
---
Tech Usage & Investements

Regardless of how large or small your business is these days, technology is here to stay.
Even more so, is e-commerce. The industry has been dancing around the topic for several years now, but really focused in when Amazon launched AmazonSupply in 2012. In this year's survey, 62 percent of distributors answered that yes, e-commerce is a priority for them.
This number is a bit off from the 58 percent who responded that they do currently use some form of online ordering in their business, a figure that remains unchanged from last year. This year, 31 percent of survey respondents indicated they have plans to implement an e-commerce platform in the next two years, compared to last year's figure of 37 percent.

Topping the list of technologies that distributors currently have employed in their businesses is once again wireless email and internet systems (Figure 1). In a hyper-connected world, distributors can see the value of making sure their systems and personnel can access the information they need and stay available to the customer. Online ordering and customer relationship management (CRM) software take the second and third slots, with warehouse management systems (WMS) and enterprise resource planning (ERP) software rounding out the top five technologies employed by distributors.
As for the technologies that distributors plan to implement in the future, online ordering is the biggest priority, with 31 percent of respondents expressing a desire to adopt the technology in the next two years (Figure 2). Twenty-three percent of respondents indicated they would adopt some form of CRM in the next two years, and 20 percent plan to implement demand forecasting in their business soon. In the "Best Practices" section of the survey, distributors responded that rising prices from manufacturers were still a concern. The interest in demand forecasting could be an attempt by these businesses to use pricing strategy to offset their low margins. In keeping with the ever-increasing need for a slim and responsive supply chain, 19 percent of survey respondents indicated that they are interested in WMS systems for their business in the next two years.
Survey respondents indicated that online ordering was the technology that had the greatest impact on their business (40 percent, up from 36 percent last year), which seems to be a trend that will not let up anytime soon. On the rise for 2014 is CRM software, up two percentage points from last year, while the impact of most other technologies on the list appear to be holding pretty steady, with ERP, WMS, and demand forecasting filling in the top five slots.

When asked what they primarily use their website for (and were permitted to select up to three answers), respondents largely indicated that they use it to house technical data (50 percent), to generate leads (38 percent), and for e-commerce (37 percent, Figure 3). There was a four point jump from last year regarding e-commerce, and the number of respondents who are using their website for training purposes rose three points. This could be a reflection of leaner rosters since the recession, and the desire for distributors to use every resource they can to train employees effectively.
Almost half of the survey respondents indicated that they have redesigned their website in the past year, and an additional 35 percent more have redesigned it in the past few years. Seventeen percent cannot remember the last time they gave the online location a once-over. This figure is in keeping with the 21 percent who "hardly ever" update the content on their site. The rest of the respondents were split between updating their site content weekly (29 percent), monthly (25 percent), and every few months (25 percent). The number of distributors who do update their site weekly has grown seven percentage points in the last year, a figure to note as content marketing and organic search traffic are on the rise.
The decision to design a mobile app for their site is not one that distributors seem to be united on: only 22 percent do have an app, up one point from last year. With the rise in mobile device usage the data could be expected to be higher. Another trend, however, is building mobile-responsive websites rather than device-specific apps. In a segment where devices and screen sizes are constantly changing, it can really exhaust an already exhausted business segment or budget to focus on too many platforms at once.

And it all leads back to e-commerce. Sixty percent of respondents currently generate web-based revenues, a figure up three points since last year. Only eight percent of respondents say that e-commerce accounts for more than 20 percent of their revenue, and that eight percent remains virtually unchanged from last year. Fifteen percent of distributors generate 11-20 percent of their revenues online, and 77 percent report that less than ten percent of their revenues are web orders (Figure 4).
In the coming year, 30 percent of respondents expect these figures to stay the same, and fewer than one percent expect less business to come from e-commerce. Seventy percent of respondents believe that this figure will grow. Even if only ten percent of their sales come from e-commerce, the assumption is that no distributor wants to miss out on the opportunity for even that ten percent.
Stay tuned! The next section of the survey - "The Value of the Distributor" - will appear in our newsletter on Wednesday, the 14th.
To view the entire survey in our digital edition, please click here.