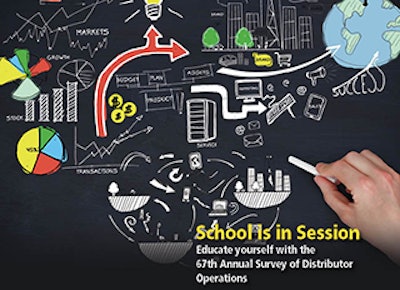 We're excited to provide the readers of Industrial Distribution with the results of our 67th annual Survey of Distributor Operations. The objectives of this report, as always, have been to understand the most critical issues affecting distributors, and to provide data to help drive their educated business decisions. In this segment, we focus specifically on:
Demographics, which establishes a profile of survey respondents based on company size, sales volume, and product line.
Challenges, Trends & Economy, which outlines the initiatives distributors are undertaking to address key business and market concerns.
The Balance Sheet, which offers insights into revenues and profitability.
Best Practices, which sheds light on distributor relationships with suppliers and customers, as well as their global business plans.
Tech Usage & Investments, which covers areas like e-commerce and other big-impact technology solutions.
Value of the Distributor, which addresses the reasons our survey respondents believe customers do business with them.
Employment, which identifies hiring and layoff trends, recruitment, and compensation.
Methodology
The results of this study are based on an email survey sent to Industrial Distribution subscribers. Recipients of the survey were offered an incentive to complete the questionnaire.
Industrial Distribution's subscriber base is comprised of 27,000 readers, the majority of whom identify as executive, upper management, sales, or sales management. Results are based on a pool of respondents within this subscriber base.
Because Industrial Distribution transitioned to a new publisher in 2010, no survey was conducted that year. Therefore, results which track comparisons over the past decade will reflect a gap between 2009 and 2011.
Comments on this year's results? Email ID's executive editor, Anna Wells, at Anna.Wells@advantagemedia.com.
---
Best Practices

Are you running the best business that you can?
That is probably a question distribution executives ask themselves every day. It is also a question that has a multitude of answers, depending on the criteria used to do the measuring.
For the last five years, distributors have ranked quality as the most important factor when evaluating suppliers; this year, the responses were no different. When given the chance to pick up to three of the categories featured in Figure 1, 85 percent of respondents chose quality as their top concern. This confirms what distributors say the rest of the year: carrying the best products is key to success.
Last year, on-time delivery was ranked second by 63 percent of our respondents. The category has declined in importance slowly over the last five years, with 76 percent of distributors indicating that this was important in 2009, and only 66 percent indicating that it is in their top three today. This slight up-tick from last year could be a result of the impact AmazonSupply is having on the market, but the figure is still not close to the post-2008 recession.
Also when evaluating suppliers, distributors ranked the service/support category as slightly less important than last year, and price has held virtually steady, perhaps alluding to a market that has leveled off a bit after the tumultuous recession years. Distributors appear to value the reputation of a supplier just as highly as last year, with both results sitting at 28 percent of survey respondents. As pointed out in last year's survey issue, this could mean that the sub-par companies were thoroughly weeded out in 2008.


As always, the manufacturer-distributor relationship is a tricky one to navigate — especially when the going gets tough on both sides. Overall, it appears that the relationships between distributors and their suppliers have remained virtually unchanged over the last year. And for nearly a third, their relationship has indeed gotten better (Figure 2).
In keeping with the "leveling off" trend of this year's data, fewer distributors reported that the support they received from their manufacturer partners was worse: only 20 percent of respondents, as opposed to 23 percent last year (Figure 3). This is the lowest number reported since the market collapse. On the less optimistic side, only 26 percent of respondents felt that their relationship was better, compared to 31 percent last year. The majority of distributors (53 percent) would agree that at least things are staying the same and not getting any worse.

As far as pricing is concerned: it appears to be a similar story to years past. Eighty-eight percent of distributors reported that their manufacturer-suppliers have raised their prices in the last year, compared to 91 percent last year (Figure 4). While two percentage points may not seem like a big drop, when taking into account the number of economic changes that have occurred over the last year, it is surprising that there was a drop at all. Considering the impact of the fiscal cliff on buying and investing decisions at the end of 2013, any reduction or leveling in price increases is welcome.
Additionally, some manufacturers have been working with distributors to offset the unavoidable cost of doing business. Forty percent of distributor respondents indicated that their manufacturer-suppliers are lending a hand with new product introductions, and 34 percent appear to be receiving help in the form of cooperative advertising and marketing efforts. Up two percentage points from last year (28 percent versus 26 percent in 2013), more respondents indicated that they are receiving technical assistance from manufacturers, and the number of respondents who indicated that manufacturers are offering easier return policies or are waiving restocking fees is up three percentage points.
Respondents were also able write in how their manufacturers are working with them. A few replies indicated that rebates, quantity discounts, and value-added activities like education were alive and well, but the majority of these answers were "none,""nothing," or "nothing at all." The manufacturer-distributor gap in the low margin environment of industrial distribution seemingly remains as wide as ever.

Vending remains a split topic in the industrial distribution landscape, with results falling in line with those from 2013. This year, 25 percent of respondents reported that they do install and maintain vending machines at customer locations, up three percentage points from last year. Of those individuals that do not currently install or maintain machines, quite a large number of respondents (85 percent) say they still have no intention of participating in the trend.
These figures, while relatively unchanged from last year, are a bit surprising considering the success of vending in the marketplace. In January of this year, Fastenal said that although vending machine numbers did not meet expectations for 2013, customers now using or deploying vending machine systems made up over 36 percent of the company's revenues.

Finally, our survey reviewed the global business intentions of the readers of Industrial Distribution. Last year, just over half of respondents indicated that they were already doing business outside of the U.S., and that number has risen to 55 percent this year. Thirty-nine percent of respondents this year indicated that they had no plans to seek business on a global scale, down one percentage point from last year's 40 percent. So, while the number of distributors seeking business outside of the U.S. is growing, it is not at an exponential rate. Perhaps companies would prefer to focus on the exploding hydraulic fracing and oil & mining segments right in their own backyards.
Stay tuned! The next section of the survey - "Tech Usage & Investments" - will appear in our newsletter on Monday, the 12th.
To view the entire survey in our digital edition, please click here.