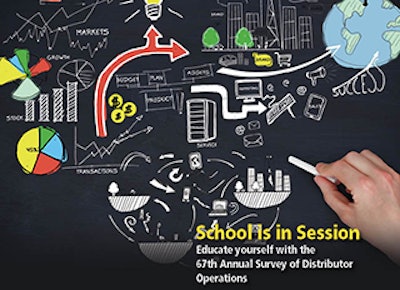 We're excited to provide the readers of Industrial Distribution with the results of our 67th annual Survey of Distributor Operations. The objectives of this report, as always, have been to understand the most critical issues affecting distributors, and to provide data to help drive their educated business decisions. In this segment, we focus specifically on:
Demographics, which establishes a profile of survey respondents based on company size, sales volume, and product line.
Challenges, Trends & Economy, which outlines the initiatives distributors are undertaking to address key business and market concerns.
The Balance Sheet, which offers insights into revenues and profitability.
Best Practices, which sheds light on distributor relationships with suppliers and customers, as well as their global business plans.
Tech Usage & Investments, which covers areas like e-commerce and other big-impact technology solutions.
Value of the Distributor, which addresses the reasons our survey respondents believe customers do business with them.
Employment, which identifies hiring and layoff trends, recruitment, and compensation.
Methodology
The results of this study are based on an email survey sent to Industrial Distribution subscribers. Recipients of the survey were offered an incentive to complete the questionnaire.
Industrial Distribution's subscriber base is comprised of 27,000 readers, the majority of whom identify as executive, upper management, sales, or sales management. Results are based on a pool of respondents within this subscriber base.
Because Industrial Distribution transitioned to a new publisher in 2010, no survey was conducted that year. Therefore, results which track comparisons over the past decade will reflect a gap between 2009 and 2011.
Comments on this year's results? Email ID's executive editor, Anna Wells, at Anna.Wells@advantagemedia.com.
---
The Value of the Distributor

Defining to a customer the full impact of working with a value-added reseller has always been a challenge for distributors. In today's environment, where long-standing industrial suppliers are competing with new and flashy e-commerce sites like AmazonSupply – who can afford to sell on the kind of margins that aren't sustainable for much of their competition – it's all the more critical to be able to articulate the value of technical expertise and service offerings.


This may be why the respondents to our survey continue to minimize the importance of price. While they were permitted to check all that apply, only 44 percent said price was one of the primary reasons a customer does business with them (Figure 1). The number one reason, according to our survey respondents, in once again "Relationships," but for not quite as many. Of last year's group, more than 91 percent said this was a primary reason, compared to just under 85 percent today. Other top categories – in a tie for second place – are "Product Availability" and "Technical Support." Joining price on the lower priority end of the scale are things like 24/7 support, vendor managed inventory, and engineering capabilities.

Write-in reasons consistently alluded to quality, with some even mentioning that their American-made product lines made customers do business with them. For others, things like global reach combined with local service were a competitive advantage. One respondent took the opportunity to emphasize the service component of his/her business, saying: "Service, service, service — in all aspects you have shown. If we don't have it, we're on the run."
Mainly, the results in Figure 1 are similar to those in years past, but it will be interesting to see whether relationships as a business priority are truly on the decline, or if this year's dip is just that — a statistical drop that will simply even out in the future.


And while vendor managed inventory (VMI) ranked relatively low on the list of priorities, over 51 percent of respondents tell us they're involved with VMI programs. It's possible the value add for a VMI use is more evident to manufacturer-suppliers, as it allows these businesses to better predict demand and manage inventory and stocking. Of course, the trickle-down effect to the distributor's customer is improved ability to meet turnaround times and reduced stockouts. VMI also has benefits for the distributor, as it reduces their risk and their need to tie up capital with inventory.

Another valuable internal objective for many distributors has been to utilize the buying power and scale of a co-op or buying group. Nineteen percent of those surveyed are only buying group members, and five percent participate in a co-op only; ten percent are involved in both simultaneously. Cumulatively speaking, 44 percent are involved in one, the other, or both, which is slightly higher than last year's group of 42 percent. Many smaller, independent distributors find value in working with these groups, in order to democratize some of the more costly business expenses relating to marketing or IT infrastructure. Additionally, the exposure to national accounts that some buying groups can provide can provide smaller companies access to organizations they likely wouldn't reach on their own.


Besides the advantages relayed above, many distributors still focus on how service can provide them with a competitive angle to improve customer relationships and increase spend. The trend in this area has continued, where distributors are reticent to charge customers for services and are working within a more traditional value-added concept. According to our survey, 58 percent of respondents are not providing unbundled services (services for a fee outside of a purchasing contract).

In the November/December 2013 print issue of Industrial Distribution, Frank Hurtte, founding partner of River Heights Consulting and author of the book The Distributors Fee-Based Service Manifesto: Why You need to consider charging for services, suggested that the traditional concept of value-added is outdated. According to Hurtte, in some cases, customers demand more in the way of service than they can possibly pay for through purchases. Part of this, he says, is due to the slow escalation of distributors trying to out-do one another in terms of what they offer. Secondly, margins are tighter than they were at the advent of the value-added movement, making it harder for distributors to afford to offer these services at no charge. Finally, says Hurtte, "When people pay for your service, their perception of the quality of your service goes... If there is value placed on their time, (the time of your specialists) will be more wisely invested with the right customers."
Perhaps distributors are slowly becoming more comfortable with the idea of charging for some services. For example, in 2009, 34 percent of our survey respondents said they derived no revenue from service, compared to 15 percent who say the same today. (Figure 2). There has been some stagnation in the higher yields however, as the group that derives more than 20 percent of revenue from service has held steady at 14 percent. In fact, the bulk of respondents (52 percent) said that they derive between one and ten percent of revenue from services. This has been the most common answer for the last five years, but the group size has increased since 2009, when only 41 percent of distributor respondents identified in this group.

Distributors also shared with us which services they most commonly charge a fee for, and the number one area – like in past years – was "Shipping," which nearly 71 percent said they charge for (Figure 3). Other top charged-for areas were things like fabrication or kitting and set-up/installation. Twenty percent said they charge for employee training at customer sites, and 18 percent require a fee for design or engineering consulting. Write-ins in this category included:
Field service.
After-hours support.
Re-lubrication.
Marketing programs.
Stay tuned! The next section of the survey - "The Value of the Distributor" - will appear in our newsletter on Wednesday, the 7th.
To view the entire survey in our digital edition, please click here.