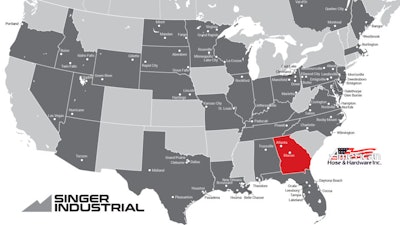 Singer Industrial
DALLAS — Singer Industrial on Thursday joined forces with American Hose & Hardware Inc. AH&H will operate within the industrial rubber division of Singer Industrial and, with this addition, will increase Singer Industrial's North America footprint to approximately 90 locations with over 1,200 employees.
AH&H has served the Georgia markets of Atlanta and Macon for over 45 years under Dean, Mark and Kenny Smith's leadership. They serve over 1,000 customers within the construction, food and beverage, and transportation end markets with hydraulic, industrial and metal hose, fittings and adapters.
"AH&H's commitment to quickly solving customers' problems is exactly the type of culture and mindset we value at Singer Industrial. We are very proud to partner with these devoted employees and add these two Georgia locations to our footprint," said CEO Craig Osborne.
This acquisition enables Singer Industrial to further its Southeast expansion into Georgia. Dean Smith will continue to manage the AH&H team and locations.
"After 45 years of operating a family-owned business started by my father, Robert Smith, we're excited to enter a new era through a partnership with Singer Industrial," said Dean Smith, AH&H president. "This partnership provides us the opportunity to expand our product and service offering that we are known for."
"The AH&H team have earned a great reputation for their broad product offering and dedication to customer service. We are excited to welcome them to the Singer team," said Sam Petillo, president of the industrial rubber division.