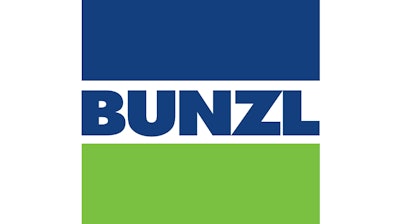 Bunzl
LONDON — Bunzl plc, the specialist international distribution and services group, announced that it has entered into an agreement to acquire a business in Germany and completed the acquisition of another in Canada.
Bunzl in February entered into an agreement to acquire Arbeitsschutz-Express, a fast-growing online distributor of workwear and PPE in Germany, which generated EUR 41 million (c.£35 million) of revenue in 2022. The acquisition further enhances Bunzl's presence in Germany, following its acquisition of hygi.de in July 2022, which provided Bunzl with a strong platform to expand from within this high potential market.
In January, Bunzl also completed the acquisition of Capital Paper, a distributor of foodservice packaging and consumables, cleaning and hygiene supplies, and industrial packaging products in Canada. The acquisition of Capital Paper strongly complements Bunzl's existing business in Canada and in 2022 generated revenue of CAD 26 million (c.£16 million).
"I am pleased to be welcoming two new businesses into the Bunzl family today. Arbeitsschutz-Express, combined with our acquisition of hygi.de in 2022, will more than double our presence in the German market, with considerable further opportunity remaining," said Bunzl CEO Frank van Zanten. "Furthermore, Canada Paper is highly complementary to our Canadian business and expands our offering in the region. Our pipeline is active, and we see significant opportunities for continued acquisition growth in our existing markets where we have opportunity to increase our presence, as well as potential to expand into new markets."