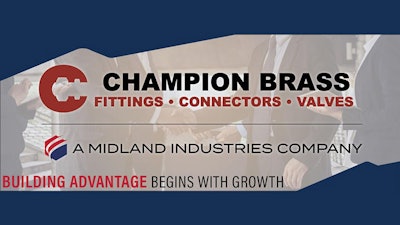 KANSAS CITY, MO — Midland Industries has announced the acquisition of Champion Brass, a DeSoto, TX-based distributor of brass fittings, valves, barbs and other related products which are sold through distributors and qualified OEM's throughout the United States.
"The acquisition of Champion strengthens our team and product offering, as we continue to build a best-in-class platform in the specialty distribution and manufacturing industry," says John Gerber, CEO of Midland. "We welcome John Miller and his team to the Midland family and look forward to learning from their deep product knowledge, enabling us to continue to provide our customers with a distinct advantage in the marketplace."
"We are excited about working with the Midland Industries team and what this new partnership means for our customers," said John Miller, President of Champion. "We're thrilled to leverage the technology and marketing services offered by the platform and to accelerate customer expansion and grow our product offering."
Midland Industries, headquartered in Kansas City, MO, is the new manufacturing and distribution platform brand representing recently consolidated companies including Anderson Metals, Midland Metal Mfg., Buchanan Rubber Ltd., Mid-America Fittings, and Stainless Adapters Inc. With over 40,000 SKUs comprising fittings, valves, hose, and related products, the company distributes to general industrial, hose, fluid power, plumbing, oil and gas, waterworks, irrigation, truck and trailer, power transmission, PVF and other end-markets. For more information, visit www.midlandindustries.com.
Founded in 2002, Champion Brass is a master distributor of machined brass fittings vital to distributors and qualified OEM's throughout the United States. Champion The company has a large inventory of fittings in stock, offer same-day shipping, and are your connection to domestic and international manufacturers. For more information, visit www.championbrass.com.