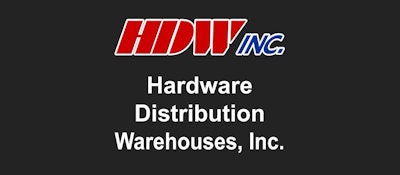 SHREVEPORT, LA — Hardware Distribution Warehouses Inc. has acquired the retail distribution business of World and Main LLC's Houston division, formerly known as Handy Hardware.
Financial terms weren't disclosed.
Employee-owned Hardware Distribution Warehouses Inc., based in Shreveport, LA, provides inventory and retail services to lumberyards, hardware stores and farm/ranch retailers.
Kenny Beauvais, CEO and President of Hardware Distribution Warehouses Inc. (HDW), said, "We are excited to add important geography to our distribution network that will allow us to serve 2,000 retail locations. This will also add experienced talent to our employee-owned company that will strengthen our position in the marketplace and our offerings to our retailers."
The acquisition expands HDW's business further into Texas and Oklahoma and adds approximately 13,000 products to the company's offerings. HDW Vice President of Corporate Communications Jimmy Horne said World and Main customers will receive the same type of service as in the past and HDW customers will benefit from broader product selection and inventory.
Hardware Distribution Warehouses operates distribution centers in Greenwood, Mississippi, and Shreveport, Louisiana. The acquisition adds 400,000 square feet of warehouse space from the World and Main Houston division distribution center in Houston. HDW serves retailers in nine states — Alabama, Arkansas, Florida, Louisiana, Mississippi, Missouri, Oklahoma, Tennessee and Texas — and is a member/owner of Distribution America, the nation's largest network of independent hardware and paint sundries wholesale distributors.
Hardware Distribution Warehouses will welcome its dealers to its spring buying market Jan. 20- 22 in Hot Springs, Arkansas.