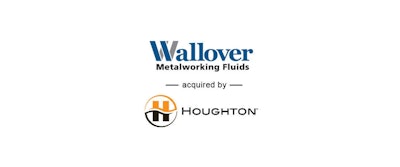 CHICAGO and CLEVELAND — Independent investment bank Brown Gibbons Lang & Company (BGL) has announced the sale of Wallover Enterprises, Inc. to Houghton International Inc., a subsidiary of Gulf Oil International. The specific terms of the transaction were not disclosed.
Established in 1863, Wallover is one of the oldest independent formulators of customized and highly engineered metalworking fluids and industrial lubricants in North America. The company offers a broad portfolio of custom oil and water-based fluid products in the industry, including metalworking fluids, aqueous cleaners, drawing and stamping compounds, rust preventives, electrical discharge machining (EDM) fluids, quenching oils, rolling oils and industrial lubricants, with manufacturing applications in the automotive, aerospace and medical industries. Wallover provides advanced technical and applications expertise directly to small and mid-sized general industrial metalworkers, stainless steel cold rolling mills, and large multi-national OEMs and component manufacturers.
Houghton International is a global provider of advanced metalworking fluids and services for the automotive, aerospace, metals, mining, machinery, offshore and beverage industries. Headquartered in Valley Forge, PA, Houghton operates research, manufacturing and office locations in 33 countries around the world delivering solutions that increase productivity, reduce operating costs and improve product quality for its customers. Houghton International is a subsidiary of Gulf Oil International, which is owned by the Hinduja Group of Companies.