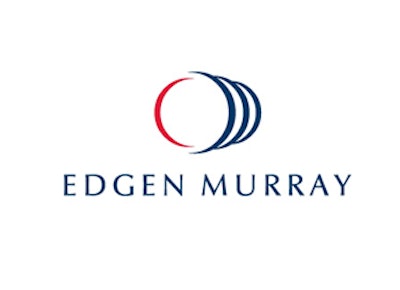 Edgen Murray Expands Valve and Actuation Offering with Acquisition of UK-Based HSP Group Limited
Acquisition complements Edgen Murray's current service to global oil and gas customers by adding valve brands and actuation services with a focus on upstream, refining, petrochemical and power applications
Experienced valve staff and an established international footprint provide hubs for greater international outreach, particularly in the United Kingdom, Middle East and Caspian regions
Edgen Group Inc. through its subsidiary, Edgen Murray Europe Limited, a leading global distributor of specialty steel products for energy and infrastructure markets, has acquired UK-based HSP Group Limited (HSP) to enhance its valve and actuation offerings to customers around the world.
HSP sells valves and actuation products and services to customers in global oil and gas offshore, refining, petrochemical and power markets from locations in the United Kingdom, Qatar and the United States. HSP distributes ball, gate, globe and check valves through long-standing relationships with leading global manufacturers.
"HSP has a strong reputation for technical knowledge, responsiveness and attention to detail in the United Kingdom and the Middle East, whether customers require long-term project packages or immediate MRO (maintenance, repair and operations) supply," said Craig Kiefer, Edgen Murray's president. "The integration of the HSP business will allow us to better meet the needs of our shared and new customers in the energy sector across Europe, the Middle East and Caspian region."
Dan O'Leary, Edgen Group's chief executive officer added: "HSP is a company whose strategy complements our own - to create and sustain mutually beneficial relationships with oil and gas customers for specialised material supply. We expect the products, services, locations and expertise acquired in this transaction to have an immediate benefit to Edgen Group, both operationally and financially."
Effective today, HSP's chief executive officer Peter Everett and his staff have joined Edgen Murray. HSP's projected revenue for 2012 is approximately £23 million ($37 million USD). Financial details of the cash and stock acquisition were not disclosed.
About Edgen Murray
Edgen Murray, an Edgen Group company, is a leading global distributor of specialised products for worldwide energy and infrastructure markets. Edgen Murray delivers high performance pipe, plate, valves and related components to upstream, midstream, downstream, power, civil construction and mining customers from more than 35 global locations spanning the Americas, Europe, Middle East and Asia Pacific. Edgen Murray supports every step of a project's lifecycle and ensures all commercial needs, technical requirements and project schedules are met with precision, anywhere in the world. This is achieved through global scale, long-standing mill & manufacturing relationships, a focus on quality, strategically-located inventory and experienced staff. For more information, visit http://www.edgenmurray.com.
About Edgen Group
Edgen Group is a leading global distributor of specialised products and services to the energy sector and industrial infrastructure markets and operates through two commercial brands - Edgen Murray and Bourland & Leverich. Edgen Murray distributes high-performance steel products for oil & gas, infrastructure and mining applications including offshore rig construction, natural gas transmission and refining and petrochemical applications in all major global energy markets. Bourland & Leverich supplies specialised Oil Country Tubular Goods (OCTG) products to the upstream conventional and unconventional onshore drilling market in the United States. Edgen Group is headquartered in Baton Rouge, Louisiana. Additional information is available at http://www.edgengroup.com.

Read more: http://www.digitaljournal.com/pr/969363#ixzz2EkfbaTmo