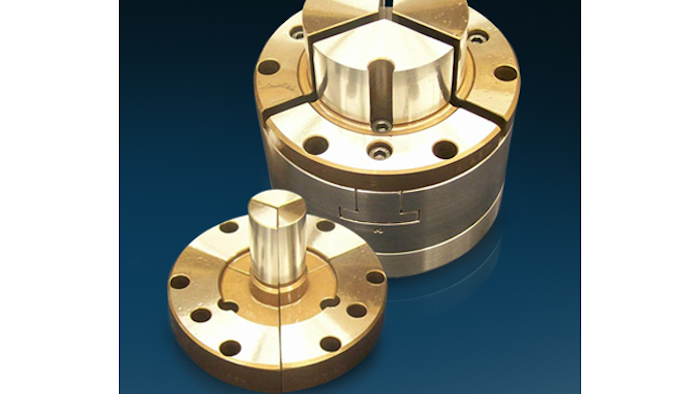 ISLAND PARK, NY — Northfield Precision Instrument Corporation, a designer and manufacture of precision workholding chucks, introduces their Model 450 Sliding-Jaw Air Chuck. This air chuck (0.0001" TIR) has unique ID-gripping Top Jaws and an Integral Axial Locator.
Northfield Precision Instrument has a customer who inspects and balances torque converters and other driveline parts. The customer requested a chuck that could expand to grip the ID of their female splined shafts while it rotates on their balancing machine. Previously, their customer used a "homemade" fixture that had a slip-fit without the expanding capability to grip the ID of the part. Northfield custom-designed their Model 450 sliding-jaw air chuck to also grip the ID of the part.
Northfield Precision Instrument designs and manufactures air chucks for any lathe, boring machine, grinder or VMC. Models include through-hole, high-speed and quick-change. Chucks are available in SAE or metric, in sizes from 3" (76mm) to 18" (457mm). Accuracies of 0.001" to 0.00001" (0.254m) are guaranteed. Custom workholding chucks and jaws are available and FREE engineering assistance is offered.
For more information, contact Northfield Precision Instrument Corp. toll free  at 1-800-810-2482, fax to (516) 431-1928, or Email info@northfield.com.