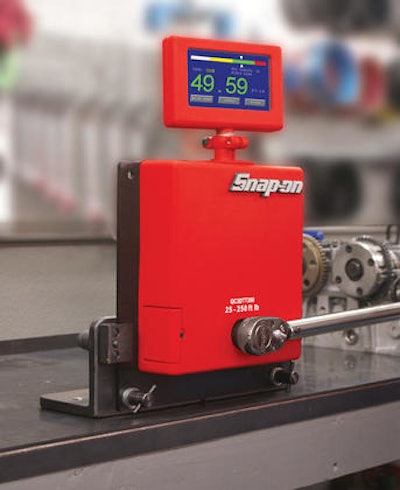 Kenosha, WI – When technicians reach for a torque wrench, they need to know it's properly tested and ready to perform. The new Digital Torque Tester™ (DTT) from Snap-on Industrial ensures just that. The DTT is a low cost torque tester that can be mounted on a wall or in a bench-top vise to allow a technician to quickly and easily test torque wrenches and torque
screw drivers. The DTT comes in 1/4", 3/8", 1/2" and 3/4" sizes, and features a user-friendly touch screen pad to capture peak torque values during a test in real time. All data can be downloaded to a PC. Six different styles of the DTT are available, and come in test ranges between 5 and 600 foot pounds. Accuracy is ± 0.50% ±1 count CW and CWW from 10 to 100% of full scale at 25° Celsius. Additional features of the DTT include:
Integral transducer and sturdy housing allow mounting in virtually any position
Transducer: full bridge strain gage, 350 ohm, 1500uE, 3mV/VF.S, 3.75 excitation
Units of torque: Nm, kgcm, ft.lb., in.lb., in-oz.
Operation modes: track, peak and first peak
Audible tone and LED light-bar present alerts
4.7 inch LCD color touch screen with 480 x 272 pixel resolution
Display accuracy: 4 digits, 9999 cycle counts
ISO-6789-2003 and ASME B107-28-2005 standards compliant
Certificate of N.I.S.T. traceability from 10% to 100% of full scale
For more information, visit www.snapon.com/industrial.