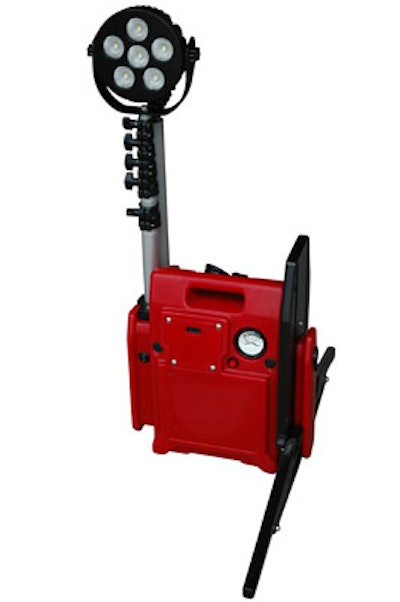 Portable, Rechargeable LED Light Tower - 6, 10-Watt LEDs - 4800 Lumen - 6.5 Hour Runtime
Magnalight's LED10W-6R-LT LED light tower is a fully portable and rechargeable unit and produces a wide flood of light ideal for use on construction sites and emergency scenes. This light tower offers a long list of features including versatile power and recharging options and provides a highly portable lighting solution that is ideal for use as flagger illumination, utility lighting, underground illumination, and anywhere a versatile, lightweight, rechargeable LED light tower is needed. The LED10W-6R-LT LED light tower is a self contained and portable light tower package that offers high power and extreme portability in a compact and durable design. This unit produces 4800 lumens that covers an area 270 feet long and 240 feet wide and can run for up to 6.5 hours on a single full charge of its onboard batteries. Optional spotlight configurations produce a light beam reaching up to 575 feet in length. This LED light tower includes six, 10 watt LED lights mounted to a telescoping aluminum mast that can be adjusted to 8 feet in total height. The entire package measures 24" high x 13.5" wide x 6.5" deep, making it very easy to stow and deploy. This unit weighs only 36 lbs and includes a built in handle for easy carrying and transport around the deployment area. There are no loose parts and all connections are already secure with no need for additional wiring. When fully deployed, this unit will withstand high winds and can be extended to a total of 8 feet in tower height for optimal illumination of the target area.
For more information, visit www.magnalight.com.