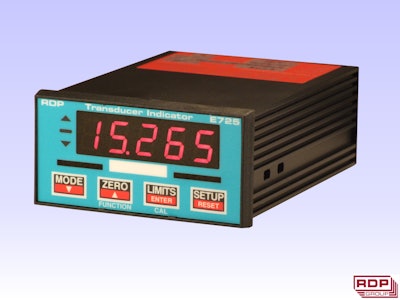 SIGNAL CONDITIONER OFFERS FLEXIBILITY AND HIGH PERFORMANCE IN DISPLAYING TRANSDUCER VALUES

The compactly housed E725 signal conditioner and display unit from RDP Electrosense can be used in either a stand-alone or panel mounted mode and offers flexibility and high performance at a competitive price. Local display of transducer values from a variety of sources, including displacement, pressure, load, and torque, can be incorporated into control panels using the E725. These easy-to-use units are suited for applications in manufacturing, process industries, and test and research. In addition to displaying values, they can deliver signals concerning transducer status to PLCs or other connected control devices. The E725 incorporates signal conditioning for transducers, offers a clear 5 digit display, with fast peak and valley detection, limit trips shown by indicator lights, and has optional mechanical or solid state relay outputs. The E725 has an analog output (voltage or current) that can be connected to a suitable input on a PLC and can also provide serial communication via RS232 or RS485. The settings can be password protected and if required, the whole panel can be disabled to prevent operators upsetting the operation of the unit.

For more information, visit www.rdpe.com.