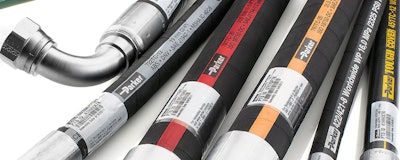 According to a report by Rubbernews.com, Parker Hannifin is combining its industrial and hydraulic hose business units into one.
The report, posted Thursday, cites company officials stating the combination of the new Hose Products Division will go into effect July 1, which is the start of Parker's fiscal year. Parker officials said its customers will see no change how they do business with the company and that Parker will continue to sell its products through its current sales channel.
Parker made the announcement at NAHAD's recent annual convention, which was held April 28-May 1 in Marco Island, FL, though Parker said it began telling its larger distributor and original manufacturer customers in mid-April.
"There will be no changes from the industrial hose side when we combine the two businesses as far as how we manage the channel, where we're going in the channel, and with the current distributor agreements," Rubbernews quoted Dan Barrett, currently general manager of the Industrial Hose Products Division within Parker's Fluid Connector's Group.
As far as leadership, the report said 15-year Parker hose veteran Ty Doyle will be new general manager for the Hose Products Division, based at the unit's headquarters in Wickliffe, OH. Doyle has headed up one of Parker's refrigeration business divisions the past four years. Barrett will be the unit's Global Hose Manufacturing Manager, while current Parker hydraulic hose marketing manager Matt Pritchard will have that title at the new combined unit. Doug Howse, currently the industrial hose division's marketing manager, will lead Parker's motion groups aftermarket programs, which include hydraulics, pneumatics and fluid connectors. The report cited Howse stating that the product manager teams will remain intact for both divisions. The sales channels will naturally have some overlap, though the unit will continue to have experts who specialize in hydraulic, industrial and fluid transfer lines.
The Hose Products Division will have have one profit and loss statement.
The report included commentary from Parker officials who said combining the industrial and hydraulic hose businesses will facilitate simplification of products, services and customer experience; support and grow distribution and OEM channels; leverage resources; merge technical expertise across hose platforms; and boost manufacturing efficiencies.
"We're at a peak right now. Both divisions are extremely busy right now, with record years for both divisions," the report quoted Barrett. "We know that next business cycle is going to come, and we want to position both units in a better place for the next cycle. We're going to be more competitive and we're going to be continuing in a growth curve regardless of the cycle, and that's our main ambition."