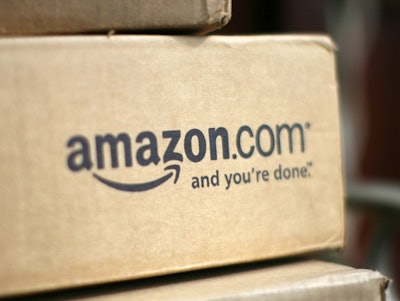 Amazon.com is paying Seattle-area residents to act as its couriers under a newly launched delivery platform.
The program — called Amazon Flex — allows people to earn between $18 and $25 per hour by signing up for individual delivery shifts.
A company app then directs those drivers to pick up packages at Amazon facilities and drop them off at customers' homes.
The service, which is available only to members of the Amazon Prime Now rapid delivery service, would complete shipments in as little as one hour.
Amazon isn't the first company to propose a ride-sharing system for packages rather than people.
Flex, however, would offer the clout of the world's largest e-commerce retailer.
"There is a tremendous population of people who want to work in an on-demand fashion," Dave Clark, senior vice president of world-wide operations, told The Wall Street Journal. "This is another opportunity for people to work with the company."
The program represents another effort to curb shipping costs and delivery times — as well as cut traditional parcel carriers out of Amazon's operations.
The so-called "gig" economy, however, is not without its own headaches. In particular, Uber and similar services face thorny questions over how their de facto contractors should be classified and compensated.
The Flex program coincides with an effort by some Seattle city council members to allow those workers to form unions.
"We feel very confident in our approach," Clark said.
Although the program debuted in Amazon's backyard, Fortune reports that the service will soon expand to other areas with Prime Now availability, including Atlanta, Austin, Baltimore, Chicago, Dallas, Indianapolis, Miami, New York and Portland.