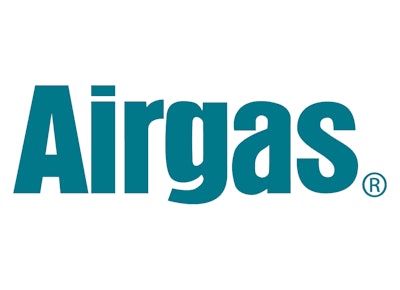 In the past few weeks as earnings have rolled in for industrial distributors and manufacturers, it is apparent, for a variety of reasons, that business is "sluggish" at best. As a result, many of these industrial companies have said they will be restructuring and laying off hundreds of employees.
That isn't the road that Airgas – No.8 on Industrial Distribution's 2014 Big 50 list – will be taking.
The Radnor, PA-based gas, welding, and safety distributor says that it will continue to look for "process improvements" and taking other steps to decrease costs rather than terminating employees.
Webinar: Managing the Digital Transformation in Distribution
Executive chairman Peter McCausland said in a conference call after releasing Airgas' Q1 earnings that there will be no company-wide reduction in its workforce. Instead, the company will not fill positions due to employee retirements or resignations. Airgas will also examine ways to reduce costs in other areas such as expenses.
"Our average cost of employees is not that high, but the cost to terminate, restructure, then rehire and retrain when growth resumes is very high and does not make economic sense, especially at a time when our volumes are only modestly down," McCausland said. "I've been in this business a long time. True value is created by doing the right things for the long-term. That means not cutting expenses to the point of sacrificing customer service, losing valuable associates, or operating in an unsafe manner. As managers, we understand the need to balance the long-term with the short-term."
​McCausland said new hires would be limited to "critical customer facing and safety sensitive roles." The company is not backfilling positions left vacant from retirements and departures.
Airgas currently employs more than 17,000 employees at some 1,200 operating facilities.
McCausland said the company is tightly managing all expenses in its distribution segment, which accounts for 90 percent of sales. "We've limited our year-over-year increase in operating expense to 2 percent, excluding the impact of acquired businesses," he pointed out.
Meanwhile, the acquisition-driven Airgas, which has purchased more than 400 companies over the years, this year has acquired nine companies so far with aggregate annual sales of approximately $74 million. The company intends on keeping that strategy, and by the of the year expects that new acquisitions will raise that number to $100 million.
"We're off to a good start and the pipeline looks good," McCausland said.
Despite the problems in the oil and gas sectors, the strength of the U.S. dollar, and economic difficulties in China and Greece, Airgas reported a fairly good first quarter. Q1 sales increased 3 percent over the prior year to $1.3 billion. Organic sales were up 2 percent over the prior year, with gas and rent up 5 percent and hardgoods down 3 percent. In the Distribution segment, organic sales were flat compared to the prior year, with gas and rent up 2 percent and hardgoods down 3 percent. In the All Other Operations segment, organic sales were up 16 percent, primarily driven by increased sales in the refrigerants, CO2 and dry ice businesses. Acquisitions contributed sales growth of 1 percent in the quarter on both a consolidated basis and in its Distribution segment.
McCausland described business conditions as sluggish but certainly "not awful."