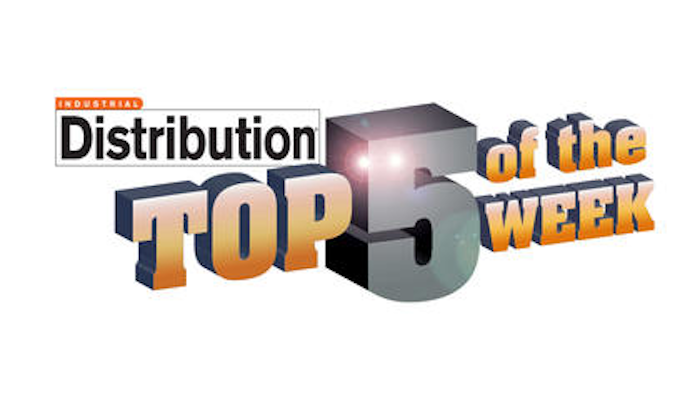 ​After two straight weeks headed by gloomy industrial market outlooks and companies reporting quarterly sales and profit declines, this week offers a different feel led by content from our November/December print issue. ID Big 50 companies Fastenal, Kaman Industrial, and Wolseley are also involved.
Here's this week's Top 5
Jack Keough: The Saga Of The $70,000 A Year Salary​: ID contributing editor Jack Keough examines the story of Seattle, WA-based credit processing firm Gravity Payments, where CEO Dan Price enacted a flat $70,000 salary across his company for all employees, regardless of their position. For many employees that meant substantial raises, since the average pay of a worker at Gravity Payments was about $48,000. Price himself took a $930,000 hit, slashing his own salary from $1 million a year to $70,000. The method has had mixed results and reviews, with the jury still out about its success and whether it's a viable option for other companies.
​Acquisition Boosts Fastenal's Store, Headcount In October Amid Sales Decline: Fastenal shared its monthly sales figures for the month of October last week, which showed a continued stretch of declining sales compared to last year. The company posted October sales of $337.98 million, down 5.1 percent from a year ago, with daily sales down 0.8 percent compared to October 2014, which had one more selling day. It was the fourth straight month that Fastenal had a smaller daily sales growth than last year, and second straight month of decline. Fastenal opened 13 new stores in the month due to its acquisition of Spokane, WA-based Fasteners Inc., bringing its nationwide total to 2,626. That total is down 21 stores from the end of October 2014. The company has opened 30 new stores so far 2015. The Fasteners Inc. addition gained Fastenal considerable personnel, as total employee headcount at the end of October was up 2.7 percent from September to 20,527. That figure is up 11.2 percent from the end of October 2014. Fastenal net gained 286 selling personnel last month to 12,898, which is up 8.2 percent from a year ago. Fastenal also net gained 59 distribution personnel in October to 2,369, a figure up 7.0 percent from last year. Fastenal said the Fasteners Inc. acquisition added 171 full-time employees, which includes 125 store personnel, two non-store selling personnel, 41 distribution personnel, and three administrative personnel.
​AutoCrib, BlackHawk Industrial Partner For A VMI Game-Changer: Hear the story of how VMI-machine maker AutoCrib and Pioneer Tool (now a BlackHawk Industrial company) collaborated from across the country to create an innovative industrial vending solution. Using hardware and software from Pioneer Tool president Derek Upson, AutoCrib founder Stephen Pixley created a prototype that was thoroughly tested. The end result of the partnership was the TX750, which answers the demands of today's industrial vending customers.
Kaman To Acquire Parker Distributor Calkins Fluid Power: Kaman Corporation has announced that its Distribution Segment (Kaman) has signed a definitive agreement to acquire substantially all the assets of Calkins Fluid Power, Inc. (Calkins), a distributor of fluid power components and systems. Terms of the sale were not disclosed. Founded in the 1920s, Calkins is a full-line authorized distributor of Parker's mobile and industrial hydraulics, filtration and pneumatics products. Calkins also designs and integrates hydraulic power units and systems. Calkins operates out of Spokane, Washington and serves a variety of industries throughout Washington, Montana and Idaho. The company will become part of Kaman's fluid power platform.
Wolseley Announces Trading Profit Dip, B&M Divestiture: Wolseley – #1 on ID's Big 50 List – announced a sharp drop in first-quarter trading profit in Britain on Tuesday as a slowdown in the country's economic recovery hurt construction activity. Trading profit in the division fell 21 percent in the three months through October to 19 million pounds, sending its shares down as much as 6 percent in early trade, reported Reuters UK. Wolseley also made news Wednesday when it was announced that OpenGate Capital, a global private equity firm, has entered into a period of exclusivity with Wolseley plc, to acquire their France-based business, Bois & Matériaux ("B&M"), a leading distributor of building materials. According to the AP, B&M is one of the top three business-to-business distributors of building materials in France, with two established brands: Réseau Pro and Panofrance. B&M also has a single-branch business, Guimier, a specialty supplier of architectural plaster moldings to the Parisian market.