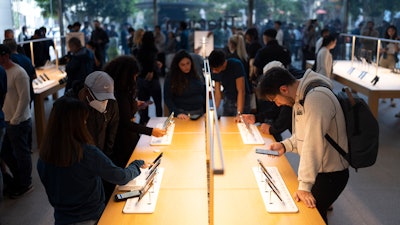 AP Photo/Jae C. Hong, File
NEW YORK (AP) — For the first time in a year, the big companies in the S&P 500 may be seeing their profits grow again.
The latest earnings reporting season is getting underway, and the broad expectation is for companies in the S&P 500 to say their earnings per share slipped 0.3% during the summer from a year earlier. That would mark a fourth straight quarter of profit declines, according to FactSet, but analysts' forecasts are routinely wrong.
If this earnings season's results follow that trend, a return to growth would offer support for a stock market that needs it.
Two main factors dictate where a stock price goes: how much profit a company generates and how much investors are willing to pay for each $1 of that. The second one has taken a hit as bond yields have soared.
A 10-year Treasury recently offered a yield of more than 4.60%, up sharply from 3.50% during the summer and from just 0.50% early in the pandemic. Treasurys are considered some of the safest investments possible, and when they're paying a lot, investors ask why they should pay high prices for riskier stocks.
That's why companies will likely need to return to profit growth for their stock prices to rise after what was a rough summer.
Expectations are particularly high for companies in the communications services sector, where analysts expect profits to jump 31.5% from year-ago levels. That's the biggest forecasted growth out of the 11 sectors that make up the S&P 500.
Much of that is due to Meta Platforms, where analysts say third-quarter earnings per share more than doubled. The company has been focusing on keeping costs lower, and Wall Street also expects its revenue growth accelerated during the latest quarter.
Still, some caution remains on Wall Street. Even if this quarter's reporting season marks the end of an "earnings recession," the threat of a real recession for the economy still looms because of high interest rates and other factors. Oil prices have been volatile recently and are up sharply from the summer.
With the risk of a slowing economy, pressures on profit margins and other threats to corporate earnings, "this puts additional risks to equities through year end," according to Megan Horneman, chief investment officer at Verdence Capital Advisors.