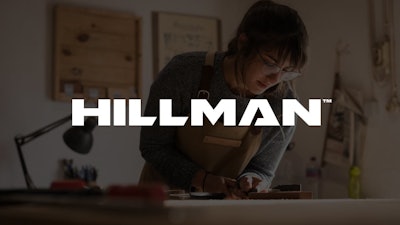 The Hillman Group
CINCINNATI — Hillman Solutions Corp., a leading provider of hardware products and merchandising solutions, on Tuesday reported financial results for the second quarter of 2023.
In the 13 weeks ending July 1, net sales decreased 3.6% to $380 million compared to $394.1 million in the prior year quarter. Net income totaled $4.5 million, or $0.02 per diluted share, compared to $8.8 million, or $0.04 per diluted share, year-over-year, while adjusted earnings were $0.13 per diluted share compared to $0.14 per diluted share in the prior year.
Adjusted EBITDA totaled $58 million, down from to $62.3 million over that span.
For the year to date, net sales decreased 3.6% to $729.7 million, and the company reported a net loss of $4.6 million — or $0.02 per diluted share.
As of July 1, gross debt was $851.5 million, compared to $918.8 million at the end of 2022, and net debt outstanding was $813.8 million, down from to $887.7 million. The company reported available liquidity of approximately $320.7 million, consisting of $283.1 million of available borrowing under the revolving credit facility and $37.7 million of cash and equivalents.
"Our strong second quarter results reflect the dedicated efforts of our associates and the resiliency of the competitive moat we have created here at Hillman," said Hillman Chairman, President and CEO Doug Cahill. "We have navigated a complex market environment, carefully controlling our costs to produce strong bottom line results with gross margins that came in line with our expectations. We effectively worked down inventory levels, which translated into exceptional free cash flow of $78 million for the year-to-date. We further improved our leverage profile with a net debt to adjusted EBITDA ratio of 4.0 times as of the quarter end, which we expect will continue to improve in the second half of 2023."
"While sales volume on existing products was lower than expected during the quarter, our business remains on sound footing and we expect to reap the benefits of several new business wins in the months ahead. We expect to continue generating healthy free cash flow in the second half of the year while margins expand sequentially during the third and fourth quarter. We believe we have the right strategy and a talented team in place to continue taking care of our customers across North America and believe we are on track to achieve our reiterated full year financial outlook."
Hillman reiterated the following guidance based on its current view of the market and its performance expectations for the 52 weeks ending Dec. 30, 2023. This guidance was originally provided on February 27, 2023 with Hillman's fourth quarter 2022 results.
Full Year 2023 Guidance
Net Sales: $1.45 to $1.55 billion
Adjusted EBITDA: $215 to $235 million
Free Cash Flow: $125 to $145 million