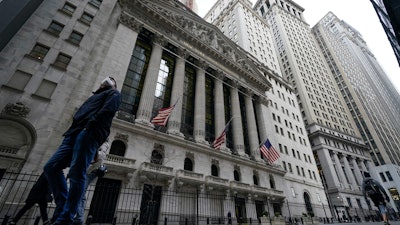 AP Photo/Seth Wenig
NEW YORK (AP) — Big U.S. companies are telling investors they earned fatter profits during the spring than feared. All they're getting from Wall Street is a fat yawn.
Profits are the lifeblood of the stock market, and prices tend to track their movements over the long term. So it's routine for stocks to get a comfortable boost when companies report results for a quarter that are better than analysts expected.
Over the last five years, stocks in the S&P 500 have risen an average of 1% in the four days around a better-than-forecast profit report, from two days before to two days after, according to FactSet. But this reporting season hasn't echoed history at all.
Stocks of companies that beat profit expectations have actually seen their prices drop by an average of 0.5% over that window, according to FactSet. That's as of the end of last week, with nearly six out of seven companies in the S&P 500 having reported. That would be the worst such quarter in more than a decade.
Consider Apple. Last week it reported stronger profit for the spring than analysts expected, amounting to $19.88 billion, or enough to send nearly $60 to every American.
But its stock nevertheless tumbled 4.8% in its first day of trading following the report. Its revenue only barely beat analysts' estimates, and its forecast for revenue in the current quarter didn't blow past expectations.
Like the rest of the market, Apple may have been a victim of its own prior success. It stock had already cruised 47% higher for the year before its profit report last week, meaning high expectations were already built into its price.
Broadly, profit reports for this quarter may have been a "sell the news" moment for the market, according to Michael Wilson, equity strategist at Morgan Stanley.
Investors may have been "buying the rumor" during the market's earlier run up. The S&P 500 had rallied 19.5% through the first seven months of the year, and it was climbing heading into this reporting season even though analysts were forecasting the worst decline in S&P 500 profits since the summer of 2020.
And even though profits are indeed coming in better than expected for S&P 500 companies so far this reporting season, they're still on track for a third straight quarter of declines from year-ago levels.
It's nevertheless tough to draw takeaways on what it means for the market when stocks fall following stronger profit reports than expected. That's in large part because the phenomenon is relatively rare.
Historically, the index has typically risen in the one and three months following such a quarter, according to Morgan Stanley.