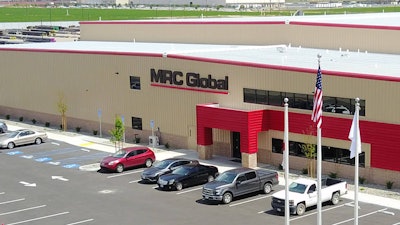 MRC
MRC Global reported stronger sales and sharply higher net income in first-quarter earnings released Monday.
The Houston-based pipe, valves and fittings distributor — no. 10 on ID's latest Big 50 — said its $885 million in sales between January and March represented a 19% increase compared to the same period last year.
Net income, meanwhile, more than doubled from $16 million in the first quarter of 2022 to $34 million in the latest three-month window. Gross profit climbed from $136 million to $179 million over that span, and adjusted EBITDA rose from $48 million to $69 million.
Diluted earnings per common share increased from $0.12 to $0.33 year-over-year.
MRC officials highlighted a higher-than-expected 2% increase in sales compared to its fourth-quarter report issued in February, which the company attributed to its downstream, industrial and energy transition segment — in particular, strong MRO and project activity in refining, chemicals and liquefied natural gas.
The DIET business saw a 23% increase in sales in the latest quarter, trailed closely by a 22% increase in the production and transmission infrastructure business. MRC's gas and utilities segment rose by 13%.
MRC Global President and CEO Rob Saltiel said the company expects double-digit revenue growth for the full fiscal year, along with EBITDA margins of more than 8% and at least $120 million in operating cash flow.
"We are very optimistic about the remainder of 2023 bolstered by the strong start to the year and our growing backlog," Saltiel said in a statement.