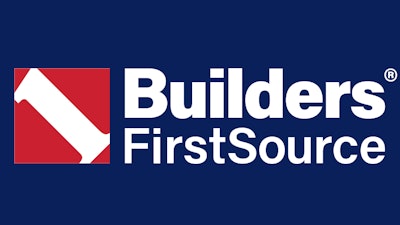 DALLAS — Builders FirstSource Inc. on Tuesday reported its results for the fourth quarter and full year ended Dec. 31.
Fourth Quarter 2022 Highlights
All Year-Over-Year Comparisons Unless Otherwise Noted
Net sales decreased 6.0% to $4.4 billion for the quarter driven by declining single-family starts, two fewer selling days, and commodity deflation, partially offset by growth from acquisitions.
Net income decreased 13.1% to $0.4 billion, or $2.62 per diluted share compared to $2.31 in the prior year period, and adjusted net income decreased 11.6% to $0.5 billion, or $3.21 per diluted share compared to $2.78 in the prior year period.Adjusted EBITDA decreased 12.2% to $0.7 billion, mainly driven by a
decline in net sales and higher operating expenses. Adjusted EBITDA margin declined by 110 basis points to 16.0%.
Cash provided by operating activities was $1.0 billion, and free cash flow was $0.8 billion.
Strong quarter-end balance sheet with liquidity of $1.5 billion and a net debt to LTM Adjusted EBITDA ratio of 0.7x.
During the quarter, the Company repurchased 10.2 million shares of its common stock for $651.4 million at an average price of $64.17.
Full Year 2022 BFS Highlights
Net sales increased 14.2% to $22.7 billion for the year driven by acquisitions, core organic growth, and commodity inflation, partially offset by two fewer selling days.
Net income increased 59.3% to $2.7 billion, or $16.82 per diluted share, and adjusted net income increased 45.7% to $3.1 billion, or $18.71 per diluted share. Adjusted net income per diluted share increased 81.3% over the prior year period.
Adjusted EBITDA increased 43.0% to $4.4 billion, mainly driven by higher net sales, positive operating leverage, and commodity inflation. Adjusted EBITDA margin increased by 390 basis points to 19.3%.
"Over my more than two decades with Builders FirstSource, we have never been better positioned to compete in a highly fragmented industry and execute on our strategy to capture share and create long-term profitable growth," said Builders FirstSource CEO Dave Rush. "I want to thank the board of directors for trusting me to lead this great organization, and I am excited to help the team reach its full potential. Our continuing focus on growing value-added products and operational excellence helped us to produce record full-year 2022 Adjusted EBITDA of $4.4 billion. While economic conditions have become more complex in recent months, I am confident that our exceptional geographic and end-market exposure as well as our experienced management team will lead us to achieve our strategic growth priorities. We have the right team members and strategy in place to win in any environment.
"We have continued to demonstrate progress towards our stated goals through both organic growth and strategic, tuck-in acquisitions that effectively complement our industry-leading portfolio of solutions. We spent approximately $2 billion on acquisitions over the last two years to enhance our value-added offerings across the portfolio, expand into high-growth geographies, and increase our presence in the multi-family and R&R sectors. As we move into 2023, we will maintain our disciplined approach to capital deployment to ensure that we can continue to drive long-term value creation for our shareholders."
Peter Jackson, CFO of Builders FirstSource, added, "I am proud of our ability to deliver solid financial results in the fourth quarter and record performance for the full year. We generated exceptional free cash flow of approximately $800 million in the fourth quarter and repurchased over $650 million of shares while maintaining a strong balance sheet capable of investing in future growth. We continue to manage through the complex operating environment with a proactive mindset and will act where needed to right-size the business. We expect the structural enhancements that we have made in our business over the past decade will mitigate the impact of softer housing demand and inflationary headwinds. Our ample liquidity, low leverage, and disciplined cost management provide significant financial firepower to strategically and opportunistically grow our business."