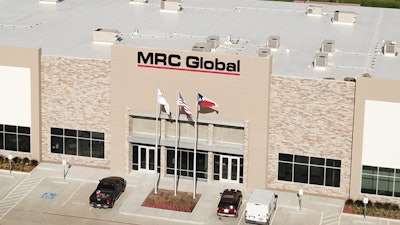 MRC Global, which brands itself as the largest global distributor of PVF products and services, reported its 2020 fourth quarter and full-year financial results on Thursday, showing that while sequential sales showed decent improvement, the company saw continued significant year-over-year declines that have persisted since well before the COVID-19 pandemic even began.
Houston-based MRC — No. 7 on Industrial Distribution's 2020 Big 50 List — posted Q1 sales of $609 million, which were up 5 percent from Q4 of last year but down 23 percent year-over-year. The deficit is even more substantial when compared to Q1 2019 at -37 percent.
MRC said Q1 sales saw sequential sales increase in all sectors except gas utilities.
E-commerce represented 38 percent of MRC's total Q1 revenue, including 46 percent of North American revenue. That compares with 39 percent and 42 percent from a year earlier, respectively.
The company's Q1 2021 gross profit of $103 million fell 30.4 percent year-over-year and marked 16.9 percent of sales, compared to $148 million and 18.6 percent of sales a year earlier. Operating profit of $3 million was down from $22 million of a year earlier. The company took a net loss of $3 million in Q1, compared to a $9 million profit a year earlier.
Geographically, MRC's Q1 US sales (79.5 percent of total) sales were down 24 percent year-over-year in the US; Canada sales were down 36 percent; and International sales were down 12 percent.
By end market in Q1, gas utilities sales (34 percent of total) were up 4 percent year-over-year; Downstream and industrial sales (32 percent of total) were down 23 percent year-over-year; Upstream production sales (21 percent of total) were down 43 percent year-over-year; and Midstream pipeline sales (13 percent of total) were down 34 percent year-over-year.
"Despite a slow start to the quarter resulting from customer budget resets and extreme weather conditions, we were able to achieve a 5 percent sequential revenue increase, a stronger bottom line and continued cash flow generation, reflecting an improved business environment," commented Rob Saltiel, who became MRC's new CEO on March 15.