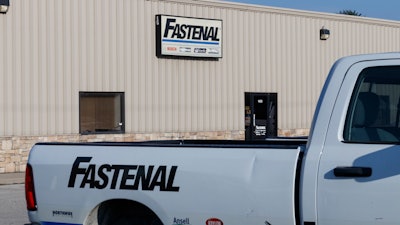 Fastenal
Fastenal reported its February sales information on Thursday, which showed that while total sales outperformed February 2020 during mostly pre-pandemic times, the pace of growth was significantly slower than the previous two months.
Winona, MN-based Fastenal — No. 5 on Industrial Distribution's Big 50 List — reported total February sales of $438 million, up 1.5 percent year-over-year. But February's daily sales growth of 1.5 percent trailed January's 6.5 percent and December's 9.3 percent, and was actually the weakest growth month for the company since March 2020's 0.2 percent.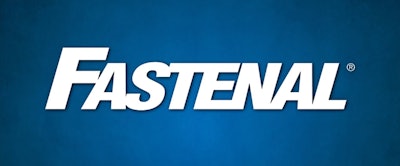 Fastenal's international customers began to be impacted by the COVID-19 pandemic during the second half of February, and now that the year-over-year baseline includes the start of those impacts, it may be the biggest factor in the considerable deceleration in year-over-year performance when comparing with previous months.
In February, Fastenal's sales of fastener products were down 2.1 percent year-over-year, worse than a 0.2 percent decline in January and a 0.5 percent increase in December. Even so, the company's product mix continued to regulate last month, as sales of safety products — which exploded to 120 percent, 136 percent and 95 percent year-over-year growth in April-June 2020 — increased 17.6 percent in February, which is the smallest growth amount in that category since Fastenal first broke out figures for it in March 2020. While still elevated, safety sales growth was down considerably from 26.1 percent in January and 36.7 percent in December.
Fastenal's February sales of all other products declined 2.4 percent year-over-year, compared to growth of 3.9 percent in January and 4.8 percent in December.
Other statistics from Fastenal's February sales report:
US sales declined 0.2 percent year-over-year, following gains of 4.4 percent in January and 7.7 percent in December. Canada/Mexico sales improved 6.7 percent in February (14.8 percent in Jan.) and sales to the rest of the world were up 30.1 percent (35.6 percent in Jan.)
February sales to manufacturing customers were up 0.6 percent (4.8 percent in Jan.), while sales to non-residential construction customers were down 14.4 percent (-8.9 percent in Jan.)
Fastenal ended February with a total headcount of 20,565, up 102 employees from January and down 7.4 percent from a year earlier.