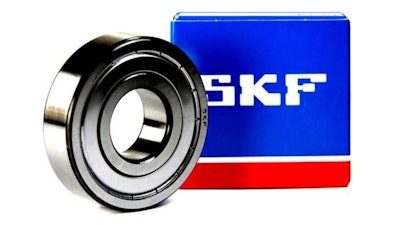 Sweden-based bearings manufacturer SKF reported its 2020 third quarter financial results on Tuesday, showing that while organic sales made a considerable sequential improvement during the July-September period, they were still in the red.
The company posted total Q3 sales of $2.1 billion, down 11.6 percent year-over-year (YoY), with organic sales down 5.1 percent. That compares with declines of 25 percent both overall and organically in Q2. SKF noted that the improvement "illustrated a sequential rebound in demand since the significantly lower levels seen during the second quarter." Q2 sales were $1.9 billion.
SKF's Q3 organic sales in North America decreased by 11.9 percent YoY, decreased by 12.5 percent in Europe and decreased 2.9 percent in MIddle East & Africa while improving 4.6 percent in Latin America and 7.2 percent in Asia. By business segment, SKF's Industrial sales saw organic sales down 6.9 percent YoY with operating margin of 12.3 percent (down from 14.6 a year earlier), while Automotive sales dipped 0.7 percent with operating margin of 5.5 percent (up from 1.5 a year earlier). Industrial distribution comprised 38 percent of SKF's Q3 Industrial sales.
Q3 net profit was $140 million, down from $153 million of a year earlier but up from $75 million in Q2.
"SKF's transformation into a more customer-focused, innovative and lean business continues," said Alrik Danielson, company president and CEO."Our strong results in the third quarter illustrate that we are delivering on the implementation of our strategy, including new ways of working, developing better, more attractive customer offers as well as making our manufacturing closer and more responsive to customer needs."
Through nine months of 2020, SKF's sales of $6.3 billion were down 14.7 percent from a year earlier.
In September, SKF announced a $61.5 million investment aimed to strengthening its manufacturing footprint and competitiveness in North America through the consolidation of the company's Avon, OH and North Charleston, SC factories into the group's factory in Sumter, SC. SKF is investing about $39 million to expand and automate manufacturing processes at Sumter, while about $22 million is being invested into localizing manufacturing of tapered roller bearings from China to an existing production site in Mexico.
"We also continue to adjust our ways of working and the structure of our business, resulting in restructuring costs of $52 million during the quarter," Danielson added. "However difficult these decisions are to make, this flexibility also enables us to adjust our business swiftly, whilst also investing in the competencies needed for the future."