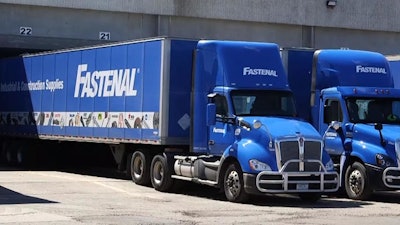 Fastenal reported its 2020 first quarter financial results on Tuesday, showing that sales actually improved year-over-year and sequentially despite negative impacts of the COVID-19 pandemic during March.
The Winona, MN-based distributor's Q1 sales of $1.37 billion increased 4.4 percent year-over-year (YoY) and increased 7.0 percent from Q4's $1.28 billion, as increased sales of safety products and demand from the government end market more than offset lower sales from the company's Onsite offerings during March. Q1 daily sales improved 2.8 percent YoY, with Q1 2020 having one additional selling day compared to Q1 2019.
Fastenal's Q1 gross profit of $637 improved 1.9 percent YoY, operating profit of $271 million improved 3.8 percent and total profit of $203 million improved 4.4 percent.
The company said the Q1 sales increase was driven by higher unit sales from its growth drivers, which continue to be industrial vending and Onsite locations, and increases in certain products later in the quarter related to the coronavirus pandemic. A price increase implemented to mitigate impacts of general and tariff-related marketplace inflation was noted as a lesser contributor.
Fastenal said about 50 percent of its business is comprised of fastener and safety products, and those two product lines grew a combined 4.3 percent YoY on a daily basis. Individually, daily sales of fastener products declined 2.6 percent YoY in Q1 and represented 32.9 percent of total Q1 sales. Daily sales of safety products grew 18.4 percent YoY and represented 19.8 percent of total Q1 sales. Daily sales of all other products grew 1.6 percent YoY in Q1, representing 47.3 percent of total sales.
The company noted that sales patters in January, February and March remained sluggish as they had been through the second half of 2019, and activity levels weakened significantly in the second half of March in response to safety measures addressing COVID-19. Fastenal's facilities and in-market locations have continued to operate, though its branches did restrict public access and many of its Onsite locations were closed or operated at a "meaningfully diminished capacity". Fastenal said 120 of its 1,136 North American Onsite locations were closed on March 31 due to customer closures. 
Fastenal's Q1 earnings release went on to describe how the pandemic produced significant shifts in the mix of its business.
"For instance, March sales of our fastener products declined 10.1 percent on a daily basis as industrial activity slowed, while our safety business grew 31.0 percent on a daily basis as we were able to source and deliver critical personal protective equipment supplies to the marketplace. In addition, while our manufacturing and non-residential construction end markets were down 1.1 percent and 7.8 percent on a daily basis, respectively, our government business was up 31.1 percent on a daily basis with sales to healthcare organizations more than doubling."
Growth drivers
Fastenal signed 4,798 industrial vending devices during Q1, bringing its installed device count to 92,124 as of March 31, up 10.4 percent YoY. Daily sales from vending devices grew at a low double-digit pace in Q1.
Fastenal signed 85 new Onsite locations in Q1 and had 1,179 active sites on March 31, up 24.8 percent YoY. Daily sales from Onsite locations grew at a mid single-digit rate YoY. The company said revenue from relatively new active Onsite locations continues to offset the impact of weak demand on more mature sites, as well as the temporary closing of certain sites due to customer shutdowns.
In January, Fastenal set 2020 signing goals of 22,000 to 24,000 vending units and 375 to 400 Onsite locations. However, with business activity slowing further and many customers enacting shutdowns and lower capacity operations, the company is not providing 2020 guidance for those business drivers.
Fastenal's Q1 daily sales to national account customers grew 5.5 percent YoY, with that revenue stream representing 55.4 percent of total company sales.
Fastenal ended Q1 (March 31) with a total employee headcount of 22,131, which was down 0.3 percent YoY and up 0.8 percent since the end of 2019.
The financial earnings report comes two weeks after Fastenal filed a Form 8-K with the Securities and Exchange Commission stating the company had acquired an undisclosed amount of assets from Apex Industrial Technologies — a provider of industrial vending solutions that Fastenal has worked with since 2008.
Earlier in Q1 on Feb. 26, Fastenal announced it had partnered with Penske Truck Leasing in a pilot program to use electric trucks as part of the distributor's own distribution fleet. As of early January, Fastenal is running a battery electric Freightliner eM2 straight truck to service branches in the Los Angeles metro area.
During March, Fastenal had to cancel what was to be its upcoming annual Fastenal customer expo, scheduled for April 14-16 in Aurora, CO, due to the COVID-19 outbreak. That cancellation was announced just a few days after Grainger likewise canceled its Grainger Show that was to be held in mid-March, and before the Industrial Supply Association and National Association for Hose and Accessories Distribution canceled their conventions that were also set for later in April.