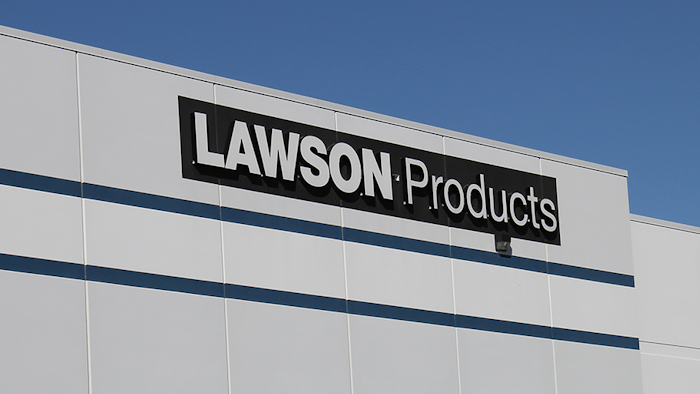 Chicago-based MRO products distributor Lawson Products — No. 37 on Industrial Distribution's Big 50 List — reported its 2018 first quarter financial results on Thursday for the period ended March 31, led by continued strong sales and profit, powered by sales rep productivity and recent acquisitions.
Lawson posted total Q1 sales of $84.5 million, up 13.2 percent year-over-year (YoY), while average daily sales grew 15.0 percent. That follows YoY growth of 19.8 percent and average daily sales growth of 17.8 percent in Q4 2017, respectively. Total sales increased $9.9 million, with $8.0 million of that from the inclusion of Lawson's 2017 acquisition of The Bolt Supply House — the company's largest acquisition to date — while a 6.4 percent improvement in sales rep productivity comprised the rest of the positive revenue impact.
Of Lawson's total sales, 88.8 percent came from product sales, while the remainder came from service revenue.
Lawson's organic average daily sales increased 4.0 percent in Q1, compared to 8.3 percent in Q4.
Lawson's total Q1 profit of $1.2 million increased from $0.9 million a year earlier, while operating profit of $1.8 million compared with $0.7 million a year earlier and adjusted EBITDA of $4.5 million compared with $2.9 million. Q1 gross margin increased $1.3 million YoY to $46.2 million.
"The positive results achieved during the quarter demonstrate how we have strengthened our business both organically and through acquisitions," said Michael DeCata, Lawson Products president and CEO. "Our performance this quarter demonstrated the benefit of our acquisition strategy as well as our ability to leverage our infrastructure as we grow organic sales. Our improving financial performance is a continuation of benefits realized by the investments we have made over the past several years, combined with a stronger industrial economy. We will continue to execute our plan to achieve higher profit through increased sales combined with leveraging our infrastructure."
Lawson's sales per rep per day increased 6.4 percent YoY in Q1, following growth of 8.3 percent in Q4 2017; 11.3 percent in Q3 2017; 8.1 percent in Q2 2017; and 2.6 percent in Q1 2017.
Lawson Products ended Q1 with 966 active sales reps, down 17 from the end of 2017.