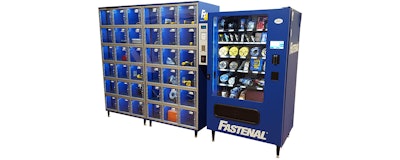 Per its name, Fastenal has always been known for its breadth of fastener products, but its the company's non-fastener products, in particular, that are driving considerable growth. Winona, MN-based Fastenal — No. 7 on Industrial Distribution's Big 50 List — reported its 2018 first quarter fiscal results on Wednesday, showing that industrial vending and Onsite service continue to comprise the majority of the distributor's accelerating growth, while fastener sales also keep improving.
Fastenal posted 2018 first quarter sales of $1.19 billion, up 13.2 percent year-over-year (YoY). Its daily sales increased by that same 13.2 percent mark — with at least 12.0 percent daily sales growth during each Q1 month. That follows YoY sales growth of 14.8 percent in Q4 2017. The company said its spring 2017 acquisition of Manufacturers Supply Company increased sales by 1.3 percentage points, with the remainder of the increase driven by volume, most notably from industrial vending and Onsite locations. Fastenal also noted it received a sales growth bump from higher pricing, which it said was instituted to mitigate marketplace inflation.
Fastenal closed 49 branches in Q1 and didn't open any, while converting five public branches to non-public. That brings the company's total public branch count to 2,329 — down 151 YoY. Fastenal's public branch count has decreased by 13.3 percent since peaking at 2,687 in 2013.
Meanwhile, Fastenal's 678 active Onsite locations at the end of Q1 were up 12.1 percent from the end of Q4 and up 55.1 percent YoY. Fastenal signed 5,679 industrial vending devices during Q1, up 4.5 percent YoY and up a whopping 33.1 percent from Q4 2017. The company's installed device count as of March 31 was 73,561 — up 14.2 percent YoY. The company signed 100 new Onsite locations during Q1, compared to 64 signings a year earlier. The company's ratio of vending devices to in-market locations was 24:1 at the end of Q1, and product sales through vending devices grew 20 percent YoY.
"Total in-market locations (public branches + active Onsites) were 3,007 at the end of Q1, up from 2,917 at the end of 1Q17, with growth in Onsite locations more than offsetting a decline in our public branch count," the company said.
Fastenal said it's 2018 goal for vending device signings is 21,000-23,000, while its goal for Onsite signings is 360-385.
Fastenal's Q1 total profit was $174.3 million, a 29.9 percent jump YoY, largely due to its Q1 income taxes of $35.1 million being less than half they were a year earlier ($78.4). The company's operating profit of $234.5 million increased 10.4 percent YoY and declined 50 basis points to 19.8 percent of net sales, while gross profit of $577.6 million increased 11.5 percent but declined 73 basis points to 48.7 percent of net sales.
Other notes:
Fastenal signed 36 new national account contracts in Q1, up from 32 in Q4 2017
National account customers represented 50.3 percent of total Q1 sales, up from 49.8 percent in Q4 2017
Daily sales to national account customers grew 17.3 percent YoY in Q1, compared to 18.5 percent in Q4 2017
78 of Fastenal's top 100 customers grew sales in Q4, compared to 72 in Q4 2017 and 64 back in Q1 2017
The company said sales to non-national account customers continued to grow at mid- to high-single digit rate in Q1
March daily sales to manufacturing customers grew 14.0 YoY, while daily sales to non-residential construction customers grew 10.9 percent
March daily sales of fasteners grew 12.4 percent YoY, while sales of all other products grew 14.1 percent
Fastenal's full-time employee headcount was 18,004 at the end of Q1, up 6.1 percent YoY and up 2.8 percent from the end of 2017. The company's total employee headcount (full-time and part-time) ended March at 21,002 — up 6.0 percent YoY. In the last 12 months, Fastenal has increased its in-market locations headcount by 576, and by 1,180 overall.
March daily sales of $19.0 million grew 13.1 percent YoY, marking the company's 10th straight month with at least 12.0 percent growth. Here's how Fastenal's monthly daily sales growth has fared since the start of 2015.
| | | | | | | | | | | | | |
| --- | --- | --- | --- | --- | --- | --- | --- | --- | --- | --- | --- | --- |
| | Jan. | Feb. | Mar. | Apr. | May | June | July | Aug. | Sept. | Oct. | Nov. | Dec. |
| 2018 | 12.0 | 14.8 | 13.1 | | | | | | | | | |
| 2017 | 3.8 | 6.1 | 8.4 | 8.9 | 9.7 | 13.0 | 12.9 | 12.8 | 15.3 | 13.8 | 15.4 | 14.7 |
| 2016 | 3.3 | 2.6 | 0.0 | 3.8 | 1.1 | 0.0 | 2.1 | 0.3 | 2.8 | 3.9 | 1.2 | 3.2 |
| 2015 | 12.0 | 8.6 | 5.6 | 6.1 | 5.3 | 3.7 | 3.2 | 1.6 | -0.3 | -0.8 | -1.1 | -3.8 |