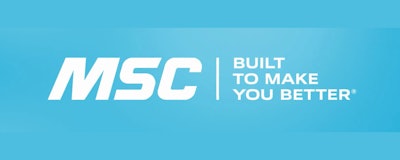 MSC Industrial Supply has typically been the first of the publicly-traded industrial distributors to share its quarterly fiscal results each earnings reporting period, serving as a good health barometer for the rest of the MRO products market.
Lately, that health report is showing strong vitals as MSC's numbers continue to climb.
Such was the case in MSC's 2018 second quarter, which ended March 3 (MSC's fiscal year begins in September). The company posted Q2 sales of $769.0 million, up 9.3 percent year-over-year (YoY). Sales were nearly identical to Q1, which had 12.0 percent YoY growth. MSC said that its 2017 acquisition of DECO Tool Supply boosted Q2 sales by $30.0 million and represented approximately 430 basis points of acquisitive growth.
Melville, NY-based MSC had Q2 total profit of $117.6 million — essentially double that of Q1 — as the company had a $58.1 million tax benefit attributable to the Tax Cuts and Jobs Act. Q2's operating profit of $98.1 million increased 13.2 percent YoY, while operating margin of 12.8 percent was a 50-basis-point expansion YoY.
"The manufacturing environment in the second fiscal quarter remained firm, and customer outlook remained positive," said Erik Gershwind, MSC president and CEO. "The pricing environment also continued to improve, and we implemented a moderate price increase in late January. As a result, we delivered improved gross margins, which along with productivity, resulted in strong incremental margins. We remain focused on growing technical and high-touch areas to create a deeper moat around our business, and while I am pleased with our progress, we have room for further improvement. Strengthening market demand and a better pricing environment, coupled with a continuing focus on driving productivity and our decision to begin growing our sales force, bode well for an even better future."
MSC — No. 11 on Industrial Distribution's 2017 Big 50 List — said its average organic daily sales growth was 5.0 percent and its operating expenses-to-sales ratio improved by 90 basis points.
MSC's daily sales grew at least 8.6 percent YoY in each Q2 month, and have been in double digits in seven of the last nine months through March. Here is how MSC's total sales and daily growth have fared by month over the past 13 months:
March '18 (preliminary): $319.0 million (+8.6 percent)
February '18: $258.7 million (+10.7 percent)
January '18: $257.9 million (+10.6 percent)
December '17: $252.5 million (+6.6 percent)
November '17: $221.1 million (+11.5 percent)
October '17 : $246.7 million (+11.6 percent)
September '17: $300.9 million (+12.7 percent)
August '17: $246.5 million (+10.2 percent)
July '17 : $236.0 million (+12.1 percent)
June '17: $271.3 million (+6.6 percent)
May '17: $222.0 million (+5.5 percent)
April '17: $228.1 million (+1.5 percent)
March '17: $293.8 million (+4.5 percent)
In Q2, e-commerce represented 60.2 percent ($463.4 million) of MSC's total sales, up from 59.8 percent in Q1, but still down from 60.4 and 60.5 percent in Q4 and Q3 2017, respectively. E-commerce comprised 60.1 percent of MSC's total 2017 sales.
By customer type, 68 percent of MSC's Q2 sales were to manufacturing and 32 percent were to non-manufacturing — identical to Q1. Average daily sales to manufacturing customers grew by 8.9 percent in Q2, while growing 9.3 percent to manufacturing. Those figures trailed respective growth of 11.4 and 13.1 percent in Q1.
By geography, MSC's Q2 sales increased in all four domestic regions and internationally. Regional sales growth in Q1 was as follows:
Midwest: +21.6 percent (+24.5 percent in Q1)
Northeast: +4.1 percent (+4.0 percent in Q1)
Southeast: +4.0 percent (+9.2 percent in Q1)
West: +4.7 percent (+5.6 percent in Q1)
International & Other: +16.4 percent (+15.8 percent in Q1)
MSC's total headcount of 6,492 at the end of Q2 was down by 28 from Q1. The company ended Q2 with a total field sales headcount of 2,285 — down 52 from Q1.
MSC said it expects Q3 sales to be between $820 million and $835 million, with average daily sales growth of roughly 11 percent YoY at the midpoint. Excluding DECO, Q3 net sales are expected to be between $789 million and $803 million, with average daily sales growth of roughly 7 percent YoY.