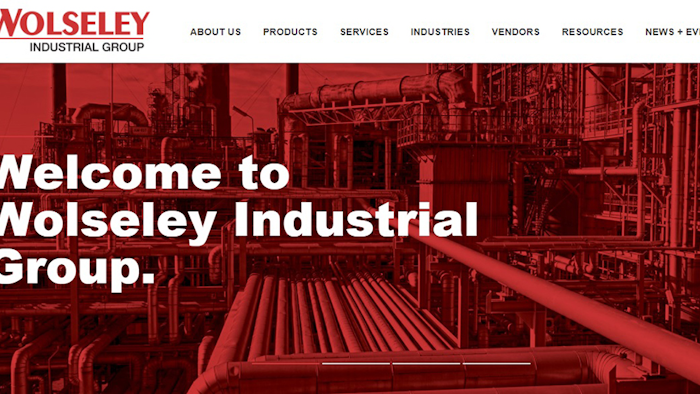 Reading, England-based Ferguson — the world's largest distributor of plumbing products — reported the results of the first half of its fiscal year ended Jan. 31 on Tuesday, led by considerable year-over-year (YoY) increases across the board.
The results included strong growth in the company's U.S. industrial, fire & fabrication and facilities supply segment (Industrial) — Wolseley Industrial — where first-half sales of $752 million increased 6.8 percent YoY. Wolseley Industrial was No. 16 on Industrial Distribution's 2017 Big 50 List. Ferguson said the first-half U.S. industrial end-market had 7 percent growth, with organic growth of 10 to 11 percent.
2018 first-half organic growth for Ferguson's other U.S. business units were:
Blended Branches: Sales of $4.62 billion increased 7.6 percent
Waterworks: Sales of $1.27 billion increased 12.0 percent
B2C E-commerce: Sales of $743 million increased 13.1 percent
HVAC: Sales of $530 million increased 8.1 percent
Ferguson total first-half sales of $10.3 billion increased 9 percent, with organic sales up 7.4 percent and total profit up 14.4 percent to $698 million.
Nearly 79 percent of Ferguson's total first-half sales and 89 percent of total profit came from the U.S., which posted revenue of $7.9 million. U.S. profit of $647 million increased 15.7 percent. 
In the U.K., which represented 5 percent of total company profit, sales of $1.35 billion increased 0.5 percent. In Canada and Central Europe, which represented 6 percent of total profit, sales totaled $761 million — up 9 percent.
Ferguson completed six acquisitions during the first half of 2018 totaling $162 million of annual sales, including three bolt-on acquisitions in the U.S. that accounted for 1.8 percent of total U.S. sales growth. Those U.S. acquisitions were AC Wholesalers, Supply.com, and most recently, Duhig Stainless — a specialist industrial pipe and valve businesses based in Modesto, CA.