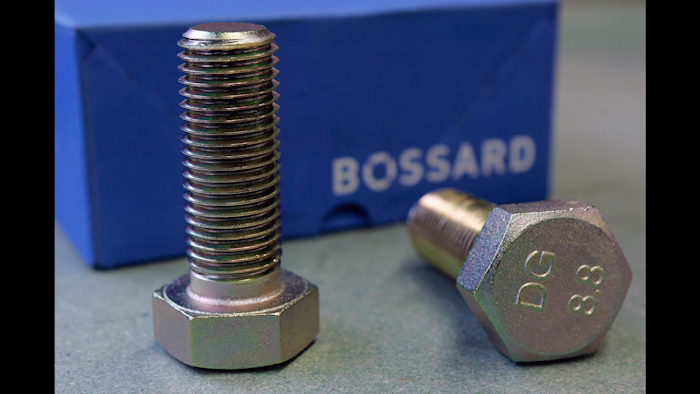 Zug, Switzerland-based The Bossard Group — No. 23 on Industrial Distribution's 2017 Big 50 List — reported its 2017 full-year financial results on Wednesday, and announced partnerships it has made in the additive manufacturing market.
The fiscal results were led by strong sales and profit gains, including considerable higher sales in the Americas. Bossard posted full-year 2017 sales of $835.5 million, up 13.1 percent from 2016 as all three market regions posted double-digit growth:
In the U.S., Bossard's 2017 sales of $234.1 million increased 18.4 percent from 2016, driven by acquisition growth and organic growth. The acquisition growth was due primarily to Bossard's Q4 2016 acquisition of Canton, MA-based Arnold Industries.
In Europe, Bossard's 2017 sales of $472.8 million increased 10.8 percent from 2016, which the company said is primarily due to its growth strategy of integrating previous acquisitions and expanding infrastructure for current activities.
In Asia, Bossard's 2017 sales of $128.6 million increased 12.8 percent from 2016
Bossard's 2017 total profit of $85.2 million jumped 28.4 percent from 2016, while EBIT rose by 23.6 percent to $103.1 million.
Looking ahead, Bossard is forecasting 2018 full-year sales of between $893 million and $903 million, which would be at least a 7 percent growth rate from 2017.
"A number of developments give us reason to feel optimistic for fiscal year 2018," the company said Wednesday. "The products and services offered by the Bossard Group are meeting with brisk demand in all market regions. We can continue to build on this solid foundation, particularly as our commitment to Industry 4.0 and e-mobility offers additional growth potential."
3D Printing
On March 5, Bossard announced it has partnered with three Germany-based companies to enter the 3D printing market. Bossard said it is presenting three different technologies at the ongoing Additive Manufacturing Expo in Lucerne, Switzerland that spanned Tuesday-Wednesday. The company has partnered with TRUMPF for laser metal fusion; German RepRap for fused filament fabrication and Henkel for stereolithography.
Bossard said the partnerships will allow it to sell 3D industrial printers and related consumables — including metal powder and filaments — while the company will also act as a partner in consulting customers up to designing complex parts for 3D printing.
"The Bossard Group views 3D printing as a forward-looking technology that will transform some areas of industrial manufacturing," the company said Monday. "Our involvement relies on partnerships with three manufacturers of premium industrial 3D printers and related technical support services. The group contributes with its technical expertise, vast experience in solving industrial manufacturing problems, and an established sales network. Our consulting services extend to the design of prototypes and complex customized components; application engineering and prototyping will act as a competence center."
Bossard said that in cooperation with its partners, it will continually expand the new 3D printer line.