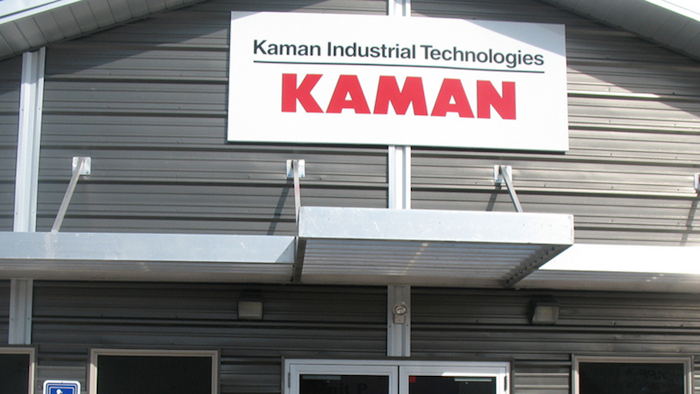 Bloomfield, CT-based Kaman Corp. reported its 2017 fourth quarter and full-year fiscal results on Tuesday, showing a long-awaited return to year-over-year (YoY) sales growth for its distribution segment — Kaman Industrial Technologies (KIT).
KIT recorded Q4 sales of $263.0 million, up 2.2 percent YoY. That marks the segment's first YoY growth in 10 quarters since Q2 2015, including declines of 5.9 percent, 2.6 percent and 2.5 percent in Q1, Q2 and Q3 of 2017, respectively. Organic sales improved 2.4 percent, while per-day sales increased 0.6 percent. Operating margin increased 220 basis points to 4.4 percent as operating profit of $11.5 million jumped 101 percent. For the full year, KIT 2017 sales of $1.08 billion decreased 2.3 percent, while operating profit of $52.5 million jumped 25.4 percent. The company is expecting KIT's 2018 operating margins to be between 5.1 and 5.4 percent.
"Sales per sales day turned positive in November, a trend which has continued into 2018, where year-to-date sales per sales day are up more than 5.0 percent through February," Kaman president and CEO Neal Keating said regarding KIT. "Additionally, we have been successful in securing a number of national accounts, the largest of which was signed in the first quarter of 2018. We have begun the process of transitioning these accounts and expect the contribution to our top line performance to increase as we move through the year. These trends give us confidence in our ability to achieve our outlook as we enter 2018."
Kaman's other business segment — Aerospace — had Q4 sales of $210.9 million, up 19.9 percent YoY. Organic sales jumped 27.2 percent and operating profit of $45.2 million jumped 34.3 percent as operating margin increased 230 basis points to 21.4 percent. For the full year, Aerospace 2017 sales of $724.9 million increased 3.3 percent, while operating profit of $119.9 million increased 4.2 percent.
Overall, Kaman Corp. had Q4 sales of $473.9 million, up 9.3 percent YoY. Gross profit increased 9.9 percent to $148.8 million, resulting in a company-record gross margin of 31.4 percent. Total profit of $13.8 million dipped 8.8 percent, while operating profit of $42.3 million jumped 58.6 percent as restructuring costs of $161 million were nearly 53 percent less than a year earlier. For the full year, Kaman 2017 sales of $1.806 billion were flat (-0.2 percent), total profit of $49.8 million decreased 15.3 percent and operating profit of $114.2 million increased 7.8 percent.