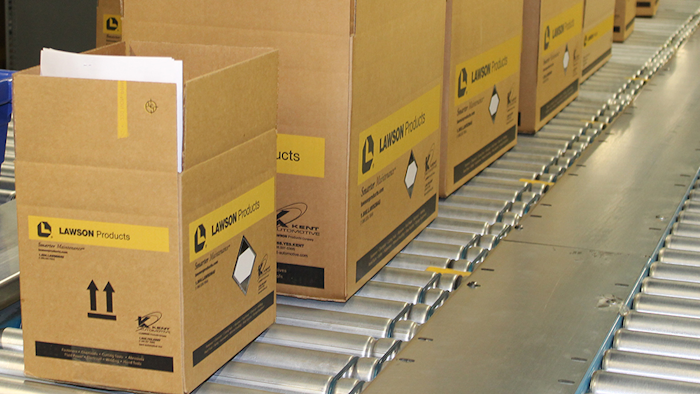 Chicago-based MRO products distributor Lawson Products — No. 37 on Industrial Distribution's Big 50 List — reported its 2017 fourth quarter and full-year financial results on Thursday, led by continued strong sales and profit, powered by recent acquisitions and organic growth.
Lawson posted total Q4 sales of $80.6 million, up 19.8 percent year-over-year (YoY). Sales increased $13.3 million from a year earlier, with $8 million of that due to Lawson's Q3 purchase of Calgary, Alberta-based The Bolt Supply House — Lawson's largest acquisition to date. Lawson said sales per day generated by organic sales increased 8.3 percent during Q4, while total average daily sales increased 17.8 percent.
Lawson's Q4 total profit was $20.2 million, compared to $1.3 million in Q3 and a $5 million loss in Q4 2016. Lawson had a $20.4 million net income tax benefit in Q4 tied to the impact of the Tax Cuts and Jobs Act. Q4 operating profit was $0.2 million, compared to a $5 million loss a year earlier. Gross profit increased $6.5 million to $47.0 million in Q4, with Bolt Supply contributing $3.4 million of that growth. 
For the full year, Lawson Products' 2017 sales of $305.9 million increased 10.6 percent from 2016, with organic sales up 6.1 percent throughout the year. Total profit was $29.7 million, compared with a loss of $1.6 million in 2016. Operating profit was $9.9 million, compared with a $1.5 million loss in 2016, while 2017 gross profit of $183 million increased $15 million from 2016.
"In 2017, our 65th year in business, we realized encouraging operating and financial results from our strategy," Lawson Products president and CEO Michael DeCata said. "The fundamentals of our business continue to get stronger. Our improved financial performance has been driven by the investments that we've made over the past several years that have allowed us to take advantage of the improving MRO marketplace. As demonstrated by our 2017 results we have a scalable infrastructure in place to drive additional levels of profitability and a scalable plan to drive organic and acquired sales growth."
By quarter in 2017, Lawson Products' year-over-year increase in sales per rep per day increased 2.6 percent in Q1, 8.1 percent in Q2, 11.3 percent in Q3 and 8.3 percent in Q4. That correlated to total average daily net sales increases of 7.1 percent in Q1, 8.1 percent in Q2, 9.5 percent in Q3 and 6.1 percent in Q4.
Lawson Products ended 2017 with 983 active sales reps, down 26 from the end of 2016.