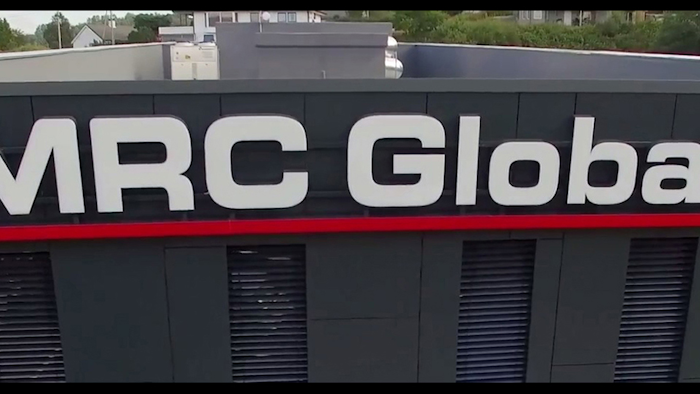 Houston-based MRC Global — No. 9 on Industrial Distribution's Big 50 List — reported its 2018 Q4 and full-year fiscal results on Thursday, led by continued major improvement in year-over-year (YoY) sales and profit.
The industrial pipe, valve and fittings products distributor posted Q4 total sales of $903 million, up 25.6 percent YoY and down 5.8 percent sequentially due to seasonality. The YoY increase follows gains of 20.9 percent in Q3 and 23.6 percent in Q2. The company said all business sectors had growth, driven primarily by midstream and upstream.
MRC posted a Q4 profit of $35 million, compared to a $19 million loss a year earlier. It follows a Q3 profit of $3 million (up $43 million YoY) and a zero profit in Q2 and Q1. The company had a Q4 operating loss of $7 million, compared to a $6 million loss a year earlier. That follows operating profit of $22 million and $17 million in Q3 and Q2, respectively. MRC's Q4 profit margin of $141 million — 15.6 percent of sales, increased YoY from Q4 2016's $122 million — 17 percent of sales. Q4 adjusted EBITDA was $43 million, compared to $17 million a year earlier.
By segment in Q4:
Midstream sales increased 40 percent YoY to $375 million, or 41 percent of total sales. "Sales to transmission and gathering customers were up 73 percent while sales to gas utility customers were up by 12 percent over the same quarter in 2016," MRC said.
Downstream sales increased 8 percent YoY to $251 million, or 28 percent of total sales. "The U.S. downstream sector was the primary driver of the increase growing $26 million, or 16 percent, over the fourth quarter of last year."
Upstream sales increased 27 percent YoY to $277 million, or 31 percent of total sales. "The increase in upstream sales was across all segments, led by our U.S. segment, which was up $35 million, followed by our Canadian and International segments, which were each up $12 million as a result of increased customer activity," MRC said.
By geography in Q4:
U.S. sales of $715 million increased 30 percent YoY. The increase was across all sectors. Increased well completions, midstream transmission and gathering deliveries and downstream project deliveries all drove the increase.
International sales of $117 million increased 3 percent YoY, primarily due to the upstream sector partially offset by a decline in the downstream sector.
Canadian sales of $71 million increased 29 percent YoY, primarily due to the upstream business as a result of an increase in commodity prices, which drove an increase in activity levels.
For the full-year, MRC's 2017 total sales of $3.646 billion increased 19.9 percent over 2016. Profit of $50 million was a significant improvement from 2016's $83 million loss; operating profit of $46 million compared with 2016's $56 million loss; and gross profit of $582 million increased 24.4 percent.
"Revenue grew 20 percent in 2017 over 2016, driven by our North American midstream and upstream sectors as the industry recovered from the downturn of 2015 and 2016," said Andrew Lane, MRC president and CEO. "We continued to defend and gain market share including signing multi-year framework agreements with three integrated oil companies and we are well positioned for double-digitt revenue growth in 2018 with our customer contract positions in the improving oil and gas market."