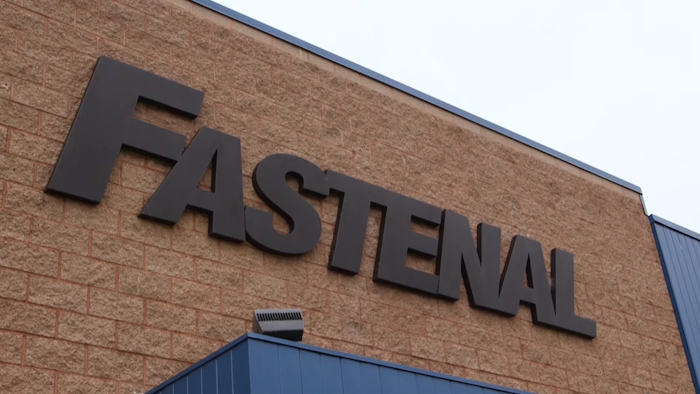 Winona, MN-based Fastenal — No. 10 on Industrial Distribution's Big 50 List — reported its 2017 second quarter results on Wednesday, highlighted by continued considerable growth figures across the board.
The company posted Q2 total sales of $1.12 billion, up 10.6 percent year-over-year (YoY), with daily sales up by that same amount. Q2 total profit of $148.9 million increased 13.2 percent, gross profit increased 11.3 percent and operating profit increased 13.5 percent.
Those figures follow a Q1 in which Fastenal's total sales increased 6.2 percent and total profit increased 6.3 percent.
"The second quarter of 2017 felt more like Fastenal," said Dan Florness, Fastenal president and CEO. "We have grown well over the last year, but market headwinds have masked this growth. We continue to ask our customers to challenge Fastenal to be their supply chain partner; their response shines through in the success we are seeing with all of our growth drivers."
Fastenal's fastener products comprised 36.1 percent of total sales in Q2 and grew 7.9 percent year-over-year. Of that growth, 3.6 percentage points were due to the company's recent acquisition of Manufacturers Supply Company (Mansco). Fastenal's non-fastener sales comprised 63.9 percent of total Q2 revenue and grew 12.2 percent YoY. In Q1, fastener sales grew only 0.8 percent and non-fastener sales grew 9.4 percent.
Fastenal ended Q2 with a total branch and Onsite employee headcount of 11,760, down 0.7 percent YoY, but up 8.9 percent since Q4. The company's total absolute headcount of 20,174 is down 0.7 YoY, but up by 550 since Q4. The Mansco acquisition added 123 employees.
Fastenal closed 31 branches in Q2 and opened five, bringing its total branch count of 2,451 at the end of Q2 — down 154, or 5.9 percent YoY. Year-to-date, Fastenal has closed 57 branches and converted another five, while it has only opened 10.
Meanwhile, the company signed 4,881 industrial vending machines during Q2, up 0.3 percent YoY and its installed device count of 66,577 as of June 30 was up 14.1 percent. Fastenal also signed 68 new Onsite locations during Q2, up 54.5 percent YoY, while its 486 active sites are a 45.9 percent increase.
"Occupancy-related expenses, which represent 15 to 20 percent of operating and administrative expenses, increased 3.4 percent as a decline in our number of public branches was more than offset by increases related to growth of vending equipment and an increase in automation at our distribution centers."
June
In June, Fastenal did $394.3 million in sales, up 13.0 year-over-year, with daily sales up by that same amount. It was the company's best month for daily sales growth since May of 2014 (+13.5).
Here's how the past 13 months of Fastenal's daily sales growth have performed:
| | | | | | | | | | | | | |
| --- | --- | --- | --- | --- | --- | --- | --- | --- | --- | --- | --- | --- |
|   | Jan. | Feb. | Mar. | Apr. | May | June | July | Aug. | Sept. | Oct. | Nov. | Dec. |
| 2017 | 3.8 | 6.1 | 8.4 | 8.9 | 9.7 | 13.0 |   |   |   |   |   |   |
| 2016 | 3.3 | 2.6 | 0.0 | 3.8 | 1.1 | 0.0 | 2.1 | 0.3 | 2.8 | 3.9 | 1.2 | 3.2 |
| 2015 | 12.0 | 8.6 | 5.6 | 6.1 | 5.3 | 3.7 | 3.2 | 1.6 | -0.3 | -0.8 | -1.1 | -3.8 |
| 2014 | 6.7 | 7.7 | 11.6 | 10.0 | 13.5 | 12.7 | 14.7 | 15.0 | 12.9 | 14.6 | 15.3 | 17.4 |
Other notable figures:
June daily sales to manufacturing customers grew 8.1 percent YoY
June daily sales to non-residential construction customers grew 7.2 percent YoY
June fastener sales grew 6.7 percent YoY, and would have grown 3.1 percent excluding Mansco
June non-fastener sales grew 11.3 percent YoY