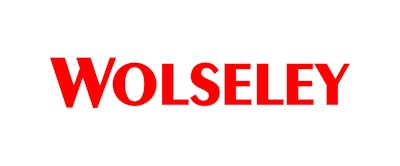 Six weeks before the company's official rebranding as Ferguson, U.K.-based Wolseley reported its 2017 third quarter fiscal results on Tuesday, led by a considerable year-over-year sales increase in its largest geographic segment — the U.S.
Wolseley — No. 1 on Industrial Distribution's Big 50 List — posted total Q3 of $5.39 billion, up 16.7 percent year-over-year and up 6.6 percent on a like-for-like basis. Total profit of $320.5 million increased 9.5 percent. The quarter had two fewer business days than in 2016.
The plumbing, heating and industrial products distributor had Q3 U.S. sales of $3.79 billion, up 24.4 percent year-over-year overall and up 8.5 percent on a like-for-like business. The like-for-like figure outpaced 6.7 percent growth in Q2 and 3.1 percent in Q1. Profit of $286.4 increased 11.3 percent.
A total of 70.3 percent of Wolseley's Q3 sales were in the U.S., and 89.4 percent of its profit.
Wolseley's Q3 U.K. sales of $648.4 million (11.9 percent of total) decreased 4.3 percent overall, and decreased 0.4 percent like-for-like; Nordic sales of $610.7 million (11.3 percent of total) increased 5.9 percent, and increased 4.3 percent like-for-like; Canada and Central Europe sales of $349.5 million (6.5 percent of total) increased 7.4 percent, and increased 5.1 percent like-for-like.
"Revenue growth in the quarter was good, with U.S. residential and commercial markets growing well and industrial markets improving," Wolseley CEO John Martin said.
During the quarter, Wolseley completed its previously announced sale of Brillion, WI-based fastener distributor Endries to Naudic Partners. Wolseley netted $234.7 million in the deal. Wolseley said it also completed three acquisitions for a total value of $26.5 million, completed the merger of its Swiss plumbing/heating unit, Tobler, with Swiss heating and HVAC distributor, Walter Meier.
Effective July 31, Wolseley will officially change its name to Ferguson — completing a rebranding announced March 28 that will reflect 89 percent of the company's total profit coming from the U.S. as Ferguson Enterprises.