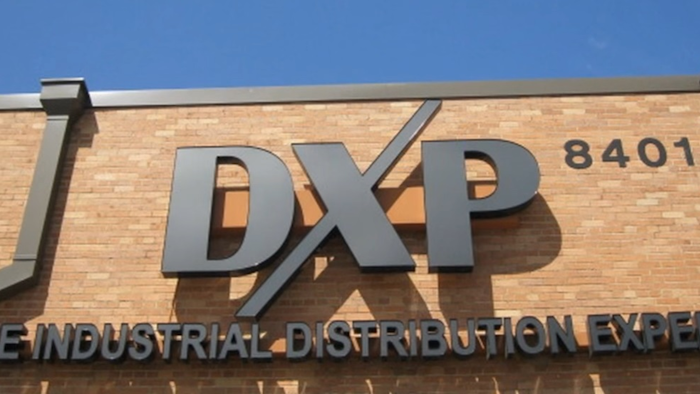 Houston-based DXP Enterprises — No. 19 on Industrial Distribution's Big 50 List — reported its 2017 first quarter and financial results on Monday afternoon, led by sequential gains in sales and profit, while year-over-year sales declines decreased.
The company posted Q1 sales of $238.5 million, down 5.9 percent year-over-year (YoY) and up 7.3 percent from Q4 2016. Those figures follow DXP's Q4, when YoY sales dropped 20.2 percent and sequential sales declined 3.4 percent from Q3. However, DXP's Q1 2017 contained three more business days than a year earlier.
In Q1 2017, DXP had its first sequential sales growth since Q1 2014.
DXP's total Q1 profit was $3.13 million, compared to a $5.11 million loss a year earlier. Operating profit of $8.24 million compared with a $2.0 million loss a year earlier.
"Our first quarter results reflect momentum building in our business," said DXP chairman and CEO David Little. "We are pleased with DXP's first quarter sales results, which included sequential sales and operating income growth across all three business segments. We are encouraged by the sequential increases and believe we could be in the early stages of a cyclical recovery."
By business segment in Q1:
Service Centers sales of $148.7 million declined 11.2 percent YoY and increased 6.5 percent from Q4 2016. Operating profit margin of 9.0 percent increased 27 basis points from Q4. In its Q1 conference call with analysts, DXP said the YoY decline was primarily the result of decreased sales of bearings, pumps, industrial supplies and metalworking products.
Innovative Pumping Solutions sales of $49.1 million increased 3.4 percent YoY and increased 7.8 percent from Q4. Operating profit margin of 7.2 percent increased 178 basis points from Q4.
Supply Chain Services sales of $40.8 million increased 5.5 percent YoY and increased 9.8 percent from Q4. Operating profit margin was 10.0 percent.
"DXP's industrial end markets, which is 51 percent of our business, appears to have found some legs and shows signs of positive upward movement," Little said. "Oil and gas, which is the remaining 49 percent of DXP, found a bottom in the third quarter of last year and is showing signs of gradual improvement."
At the end of the first quarter, DXP had approximately 2,238 full time employees, and noted that figure is expected to rise.
"We are actively engaged in discussions with acquisitions and look forward to refinancing our capital structure to pursue a more active growth strategy," Little said. "We expect both organic and acquisition opportunities in the future and we want to be positioned strong with strong liquidity to maximize our growth.
"The first quarter was a great start of the year after two years of what I call an oil and gas depression and an industrial recession, it appears our customers in all our end markets have returned to growth. DXP remains well positioned to benefit from the return of this growth. After two and a half years of intense cost reductions, continued focus on efficiency improvement and purposeful investments we believe DXP will benefit disproportionately through the next cycle."