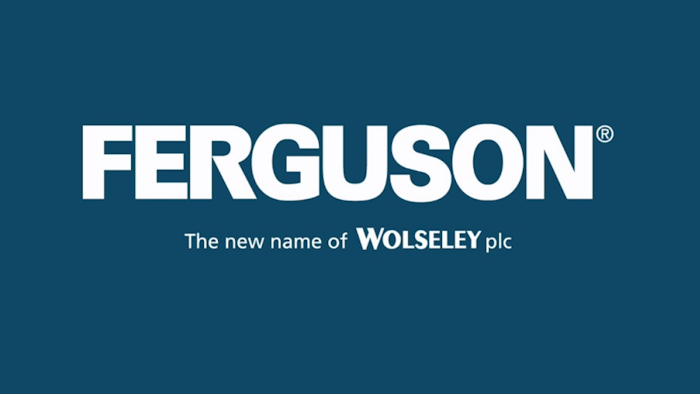 England-based Wolseley — No. 1 on Industrial Distribution's Big 50 List — announced wholesale changes to the company during its 2017 first half financial report on Tuesday, including an overall rebranding and name change.
Citing that the company does the majority of its business in the U.S. and looks to further invest in U.S. operations, Wolseley plans to rebrand as Ferguson effective July 31.
"Ferguson now accounts for 84 percent of group trading profit and we have decided to align the group's name with our most significant brand in our largest market," CEO John Martin said.
The company will continue to use the Wolseley name in the U.K. and Canada markets, but the group's name will change to reflect the success of Ferguson the U.S. 
The news follows Wolseley's previously announced cutting of 80 U.K. branches and 800 jobs, and the divestment of its Nordic business (Norway and Sweden) — which it confirmed its exit of Tuesday.
See Wolseley's video detailing the rebranding here.
Along with the rebranding, Wolseley has announced the upcoming July 31 retirement of Ferguson CEO Frank Roach. He will be succeeded on that date by Kevin Murphy, who has been Wolseley's COO for the past 10 years.
Wolseley's financial report showed the company had first half 2017 sales of $10.51 billion, up 6.7 percent year-over-year on a constant-exchange basis. However, profit of $407.3 million was down from $455.8 million as operating expenses rose.
Wolseley reported that $1.74 billion of its total sales came via e-commerce, or 17 percent.
U.S.
In the U.S., Wolseley's sales grew 9.9 percent year-over-year at constant exchange rates, while trading profit increased 9.1 percent. The company noted U.S. residential and commercial markets were good, and the industrial market improved slightly. Wolseley said sales to U.S. industrial customers — which represented 10 percent of Ferguson's sales, were broadly flat. B2C e-commerce sales in the U.S. grew "very strongly," the company said, while Fire and Fabrication, HVAC and MRO all generated good growth.
Wolseley said in the first half of fiscal 2017 it completed six bolt-on acquisitions in the U.S., with a combined revenue of $263.3 million. Included in those acquisitions were Signature Hardware, an online private label sanitary retailer, and Westfield Lighting, a lighting showroom in Indianapolis. Wolseley also acquired Ramapo, a regional residential plumbing business in New York; The Plumbing Source, a plumbing business in Hawaii; Underground Pipe, a waterworks business in Indiana and Michigan; and Matera Paper Company Inc, a commercial MRO business in San Antonio. Wolseley has completed two other acquisitions since the period ended, with combined revenue of $41 million. Those two are PV Sullivan, a commercial plumbing business in Boston, and Custom Lighting and Hardware, a showroom in Houston. Wolseley said it is currently in the process of disposing an unnamed non-core business that contributed $208.6 million in sales for the year ended July 31, 2016.
"Operating expense growth was 11.8 percent at constant exchange rates, including 3.0 percent from acquisitions," Wolseley said about its U.S. operations. "We invested substantially in our MRO capability, B2C branding and enhancing technology to support future profitable growth."