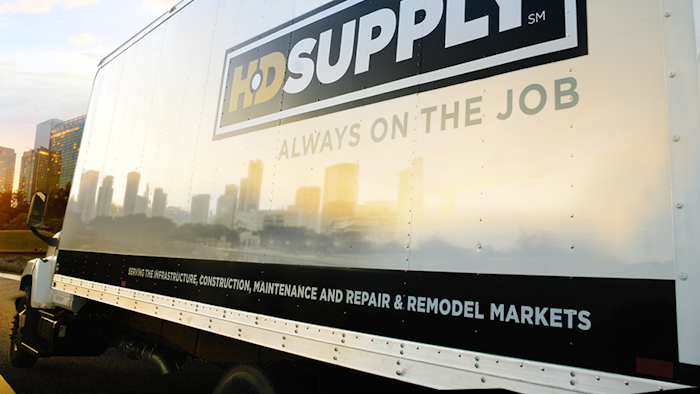 Atlanta, GA-based HD Supply — No. 6 on Industrial Distribution's Big 50 List — reported its 2016 fourth quarter and full year fiscal results on Tuesday, led by continued strong sales growth year-over-year as the company continues to restructure.
HD Supply posted Q4 sales of $1.63 billion, up 3.2 percent year-over-year, while total profit of $52 million was a fraction of the $819 million in Q4 2015. However, adjusted profit increased $35 million year-over-year in Q4 to $90 million, gross profit increased 4.9 percent to $560 million and operating profit increased 10.7 percent to $145 million.
For the full year, 2016 total sales of $7.4 billion increased 4.4 percent from 2015, while 2016 profit of $196 million compared with 2016's $1.5 billion. Adjusted total profit increased 51.6 percent to $532 million, gross profit increased 6.0 percent to $2.53 billion and operating profit increased 7.3 percent to $791 million. Full-year profit in 2015 included a $1.0 billion tax benefit, a $189 million tax credit and a $186 million pre-tax gain from the sale of its Power Solutions business.
By business segment:
HD Supply Facilities Maintenance Q4 sales increased 2.3 percent year-over-year to $620 million. For the full year, 2016 sales increased 2.7 percent to $2.76 million.
HD Supply Waterworks Q4 sales increased 3.4 percent year-over-year to $551 million. For the full year, 2016 sales increased 4.5 percent to $2.62 million.
HD Supply Construction & Industrial Q4 sales increased 4.3 percent to $466 million. For the full year, 2016 sales increased 6.8 percent to $2.06 billion. Beginning in Q4, HD Supply combined its Home Improvement Solutions operations with Construction & Industrial.
In the company's post-earnings conference call with analysts Tuesday, HD Supply CEO Joe DeAngelo said that in 2016, e-commerce delivered double-digit growth from 2015, with e-commerce now representing approximately 60 percent of total orders. That's up 5 percentage points from 2015. That 60 percent e-commerce figure is the same at Grainger — No. 3 on ID's Big 50 List — which CEO D.G. Macpherson shared on Monday.
"Our clarity has informed our current execution priorities and also helped crystallize an exciting multi-year customer centric digital vision," DeAngelo said. "We made significant investments in our digital foundation across all areas of the business as well as the customer's daily e-experience."
The company said that preliminary February sales were $535 million, with year-over-year average daily sales (ADS) growth of about 6.4 percent. That figure included February ADS growth of 0.2 percent in Facilities Maintenance, 15 percent growth in Waterworks and 5.3 percent growth in Construction & Industrial.
HD Supply expects full year 2017 sales growth of 2 to 3 percent, with Q1 sales growth of about 5 percent.