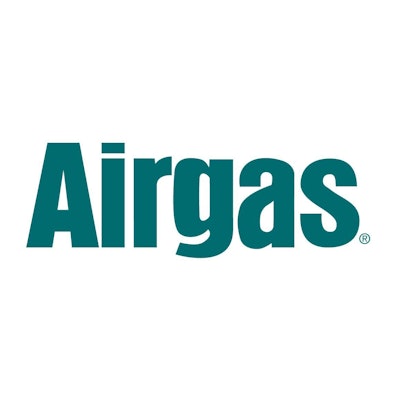 Radnor, PA-based Airgas – acquired by Air Liquide in November for $13.4 billion – reported its 2016 third quarter fiscal earnings on Thursday for the period ended Dec. 31.
Airgas – No. 9 on Industrial Distribution's 2015 Big 50 List – posted Q3 sales of $1.3 billion, down 2.6 percent year-over-year, and down 5.5 percent from Q2. The company's Q3 profit of $73.9 million sunk 20.7 percent from the same period last year, and 24.6 percent from Q2.
The company said organic sales decreased 4 percent year-over-year in Q3, with gas and rent down 1 percent and hardgoods down 10 percent. In Airgas' Distribution segment, organic sales were down 5 percent YOY, with gas and rent down 1 percent and hardgoods down 10 percent.
"Our results continue to reflect the challenging industrial economy with sales to customers in our energy and chemical, and manufacturing and metal fabrication end markets down year-over-year in the high single digits," said Airgas President and CEO Michael Molinini. "However, our diversified customer base, continued strength in non-residential construction, and tight expense management helped to mitigate the impact of the sales declines in those end markets. The quarterly results demonstrated the resilience of our gas business during difficult economic times."
France-based Air Liquide's acquisition of Airgas is still on track, as Airgas on Tuesday announced that on Feb. 23 it will host a "special meeting of Airgas' shareholders" to approve the acquisition.
In anticipation of the merger with Air Liquide, Airgas will not conduct a quarterly earnings conference call, nor issue financial guidance for the upcoming quarter. Airgas has also suspended its share repurchase program.