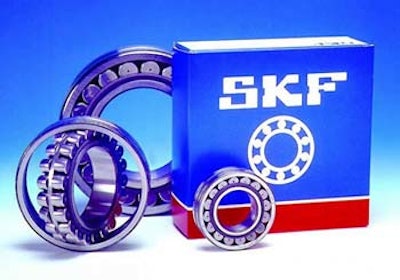 Stockholm, Sweden-based SKF, the world's largest ball bearing manufacturer, announced its 2014 financial earnings on Friday, which showed its profits soared to $4.7 billion, nearly five-fold of the $1 billion profit of 2013. Even so, SKF also announced massive job cuts on Friday, with plans to shed 1,500 jobs from its employee count of 48,600. SKF says the brunt of the staff cuts would be carried out this year and yield $1.8 billion of savings by the end of next year, and a "7.5 percent productivity improvement over the coming two years."
The cuts come less than a month into new CEO Alrik Danielson's tenure with the company.
"With our simplified structure, I am convinced that we will be even better and quicker at creating competitive products and services with customer applications in focus," Danielsson said in a statement.
SKF's 2014 sales were $8.6 billion, an 11.6 percent increase from 2013. Fourth quarter sales were $2.2 billion, a 12.6 percent gain year-over-year. Q4 profit was $106.5 million, while Q4 2013 took a $247 million loss.
Full-year 2014 sales increased by 1 percent in Europe, 3 percent in North America, 1 percent in Latin America, 10 percent in Asia, and 9 percent in Middle East and Africa. Fourth quarter sales increased by 1 percent in Europe, 2 percent in North America, 4 percent in Latin America and 8 percent in Asia, they decreased by 5 percent in Middle East and Africa.
"Our industrial business gained some momentum while, as expected, the automotive business slowed somewhat. Geographically, Asia once again had the strongest growth and North and Latin America developed well, while Europe remained relatively unchanged," said Alrik Danielson, president and CEO.